*This post may contain affiliate links. As an Amazon Associate we earn from qualifying purchases.
The Best Satin Pants for Men for Every Occasion
Finding the right pair of satin pants can be difficult.
A simple google search might leave you short of answers, and merely going to the mall can be a waste of time if you don't know where to start.
Luckily, this post will be your guide to owning that perfect pair of satin pants that you're looking for. No matter if you want satin fabric for your gym shorts or dress pants, we've got you covered. We have found the most stylish stain pants for men around and compiled a list solely to help you on your search.
But first, let's go through a little history of satin fabric.
COMPARISON TABLE
| PRODUCT | IMAGE | RATING | PRICE |
| --- | --- | --- | --- |
| [amazon link="B073X5SDKV" title="Champion Life Men's Satin Pants" /] | [amazon fields="B073X5SDKV" value="thumb" ] | | [amazon fields="B073X5SDKV" value="button" ] |
| Satin PantsCHAMPION | | | |
| ASOS DESIGN Slim Jeans In White | | | |
| Heart & Dagger Tuxedo Skinny Suit Pants In Satin | | | |
THE HISTORY OF SATIN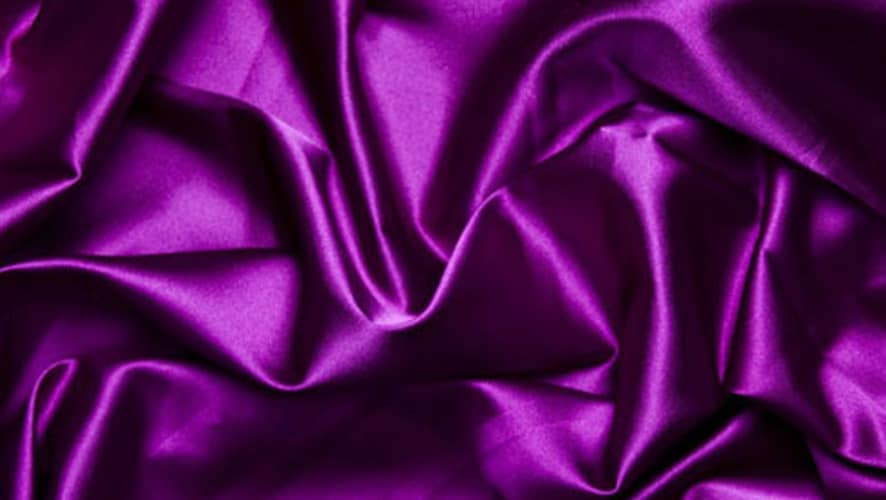 China seems to have been on the cutting–edge of most inventions throughout history.
Gun–powder, fireworks, silk: China did it all.
And of course, China was also the place of origin of the form of weaving known as satin. That's right, satin is merely a form a weaving and not a material like silk or cotton.
Although China protected the secret behind the satin weave for a long time, it eventually spread across the entire globe. By the 12th century, Italy was producing its own satin, which was available throughout Europe by the 14th century.
Satin was traditionally made using silk, and some people still claim that silk is the only way to go. But using silk was costly back in the day and made satin only available for the wealthy. Nowadays, nylon and polyester are used to make the satin weave.
You can also use cotton to do the same weave as well, but this will result in a different fabric known as sateen.
And although satin was originally used for upholstery and women's lining for clothing, it soon took on a fashion trend of its own.
Huge stars started wearing satin in movies and as fashion statements, and the trend seems to be alive and well. Even men like John Travolta and certain rock backs took it on. Groups like The Glitter Band took it to a whole new level, in fact.
And now that you know a little history behind the fashion trend of satin, here's how we chose the best satin pants for men.
AFFORDABLE AND TRENDY
When looking for the choices for this list, we looked at two main components: how much they cost and how stylish they were.
Because when making any fashion choice, these two things need to be balanced and your decision needs to be planned according to your needs and budget.
Although there are other options out there, the items listed below will provide you with a great look for as cheap of a price as possible – because not everyone can afford Gucci satin pants. Well, at least, I know I can't (even though they would look great).
So, for those of us with smaller wallet–sizes to work with, here are some great options.
[amazon link="B073X5SDKV" title="FOR THE GYM AND LOUNGING AROUND, CHAMPION IS THE WAY TO GO" /]
[amazon box="B073X5SDKV" /]
So, I'm pretty big on wearing comfy clothing around the house.
And Champion men's satin pants provide that for me. Regular sweat pants are comfy, too, but I'm probably not alone when I say that sometimes a want a little something more to make me feel better about just lounging around.
Of course, some people are big on going to the gym, as well. If you want something with a little more style to wear while working out, these might just be what you're looking for.
For those of you interested in a pair, here are some of the features Champion offers:
Lightweight to provide ultimate comfort and not as hot in the summer
Mesh lining on the inside
Zippers on the bottom for open flaps that allow a breeze to come through
Elastic waistband for a fit that feels snug but comfortable
Satin weave is made with polyester
These are, however, on the pricier side for a low-end budget option at $65.00, but they are well worth it. Champion has been a leader in comfy athletic clothing for some time now, and they know what they're doing.
ANOTHER MORE COLORFUL OPTION FROM CHAMPION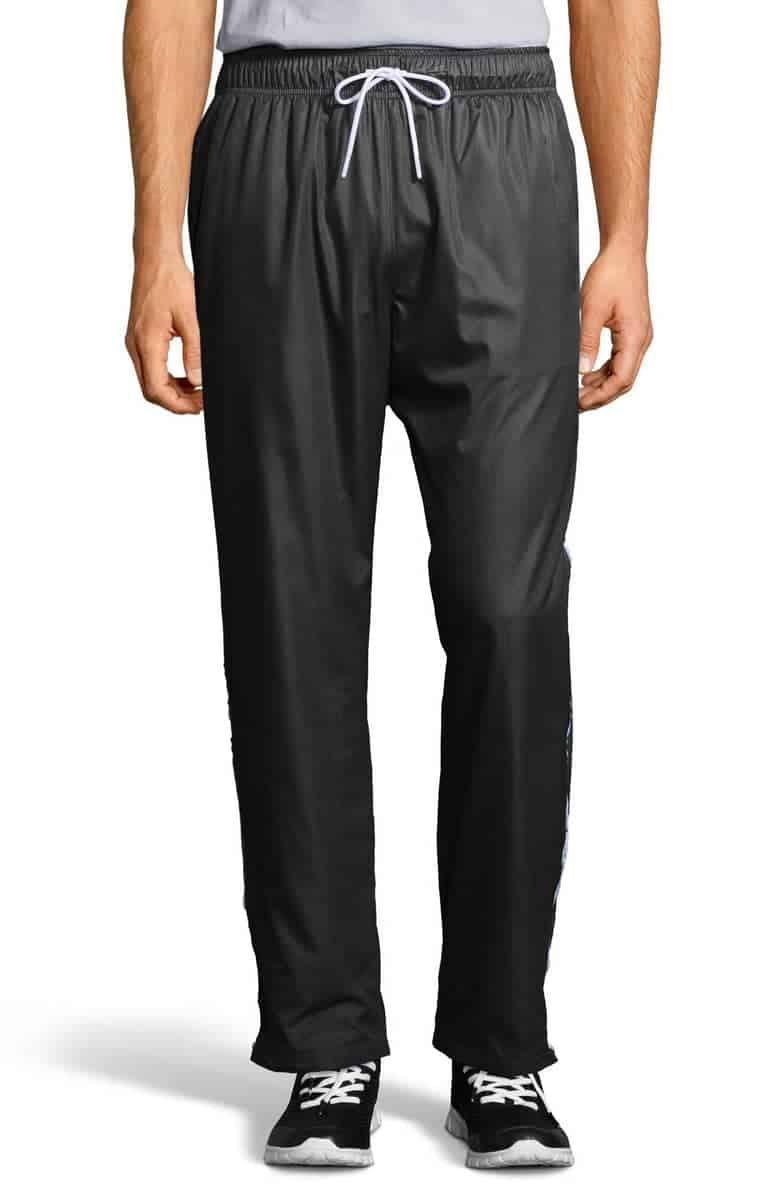 But Champion also offers a cheaper and more colorful style of satin pants.
It's available online at Nordstrom, you can check it out here!
And they're available below $$, which will give you a little more savings than the pair above. They are blue, though, so this pair is definitely for people who feel comfortable rocking a more vibrant pair of comfortable satin pants
Check out some other features:
Elastic drawstring waistband for maximum comfort
Side pockets and one back pocket for storage
Mesh lining for comfortability and 100% polyester
Machine washable and tumble dry
Athletic style and fits true to size
Champion has just what you need for your lounging and athletic clothing, especially if you want a nice satin pair. They have traditional styles and more vibrant styles, so no matter what your fashion taste is, they will have it.
FOR DRESS PANTS, GO TO ASOS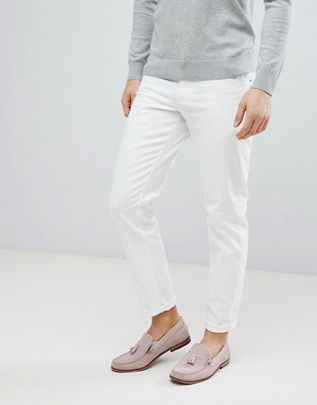 Not only are they one of the few places to offer satin dress pants, ASOS also provides a pair that isn't going to hurt your wallet.
At under $ for a classic black pair, it's hard not to choose them.
Although not entirely satin – the back being satin, the front black velvet – you'll have enough of it that you won't even notice. And plus, the black velvet compliments it pretty nicely.
Here's some more features:
Zip fly and a button fastening, like all good dress pants should have
Hook and bar closure
Tapered leg
Velvet front and a satin back
It isn't surprising that ASOS would be a good place to find satin pants. They advertise themselves as providing everyone with the fashion that they want to be who they are. ASOS is also a proud partner with GLAAD, an LGBTQ activist organization, so if you want your fashion choice to follow with your beliefs, consider shopping at ASOS.
A NON-BLACK VERSION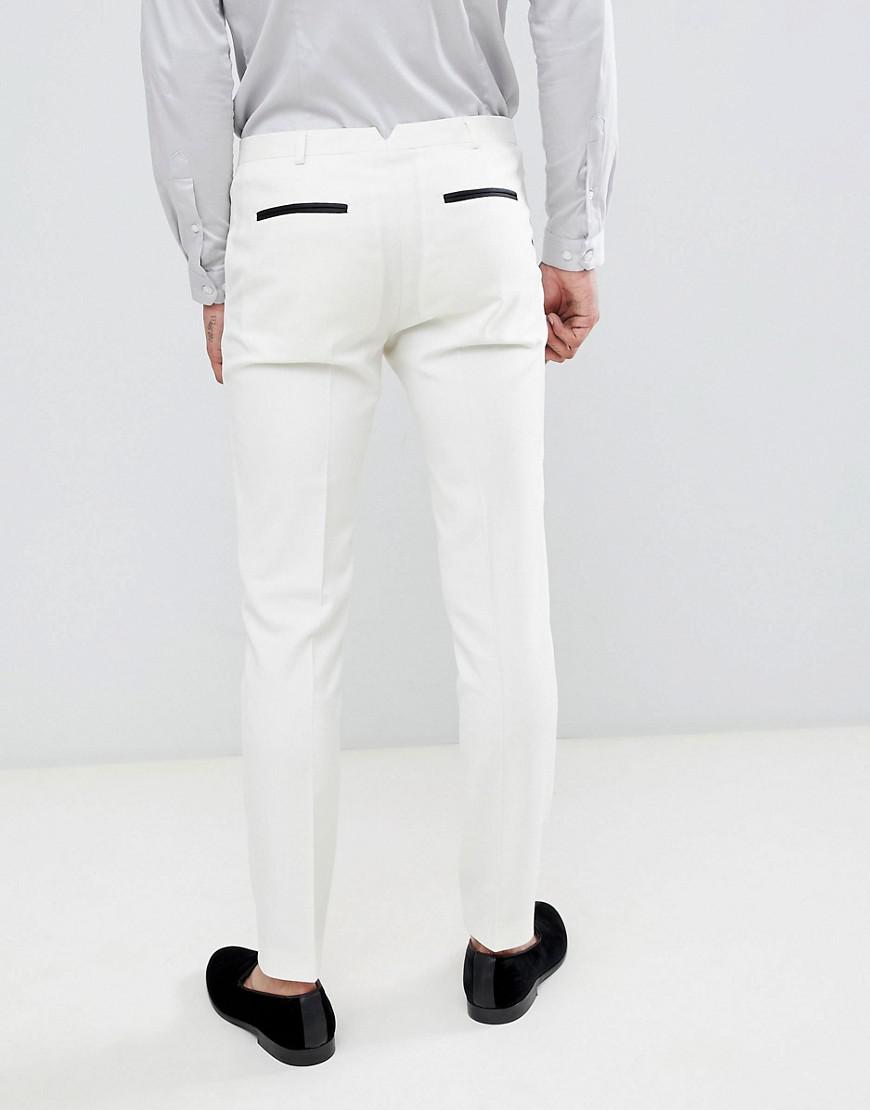 ASOS, like Champion, offers an option that is a little more untraditional…
Like a white pair of satin dress pants.
Check them out here – but notice right away that they are more expensive than the black pair above, and you'll have to drop about $$.
But they do look good. Here are some other features:
They stretch for maximum comfort and provides for a snug fit
Zip fly with button fastening like the pair above
Side and back pockets
A very stylish skinny fit
Hook and bar closure
An exclusive look only to ASOS
ASOS clearly cares about its customers, and that's why it's hard to beat them when it comes to unique styles such as satin clothing.
For men out there who can't seem to find the satin pants that they're looking for, ASOS will most likely have you covered.
A BUYER'S GUIDE FOR SATIN PANTS
There are really only a couple things you need to consider when purchasing a pair of satin pants.
These include:
Type of occasion: If you're going to a nicer party, maybe a lounging pair of Champion satin pants aren't the appropriate choice. Go with the option that fits your needs.
Your desired comfortability: This is crucial when buying satin pants. Satin is a fashion style that can cause many people to lose sight on comfort – which they might regret later on.
FINDING THE SATIN PANTS YOU NEED
So, although these are not the full range of options for satin pants, these options will definitely help you along the way.
Satin pants are a very unique fashion – especially for men – and in order to find that perfect pair, some consideration needs to go into your choice so that you can make as informed of a decision as possible.
Start with these options and work your way around the market.
But since I've taken the time to look at the available options out there, these are by far the best.
It isn't as easy to find a nice pair of satin pants as you may think, especially for the affordability that many people need to make a buy.
Have fun searching for the right pair for you!