*This post may contain affiliate links. As an Amazon Associate we earn from qualifying purchases.
Topshop jeans aren't something that people talk about a lot. In fact, it's pretty common for people to buy basic jeans at Topshop and not think twice about it.
However, Topshop recently came out with something that's anything but "common." They're called clear knee mom jeans, and they're exactly what they sound like. They're jeans with clear panels at the knees, allowing people to see the wearer's entire knee.
People have been incredibly divided about these clear jeans and whether they're a fashion hit or a major miss. Tons of tweets, some funny, some confused, and some intrigued, have been made about the clear pants.
If you are someone who falls into the "intrigued" category, know that it's definitely easy and possible to rock these jeans. In fact, here are some great ideas on how to wear them should you choose to try them out for yourself.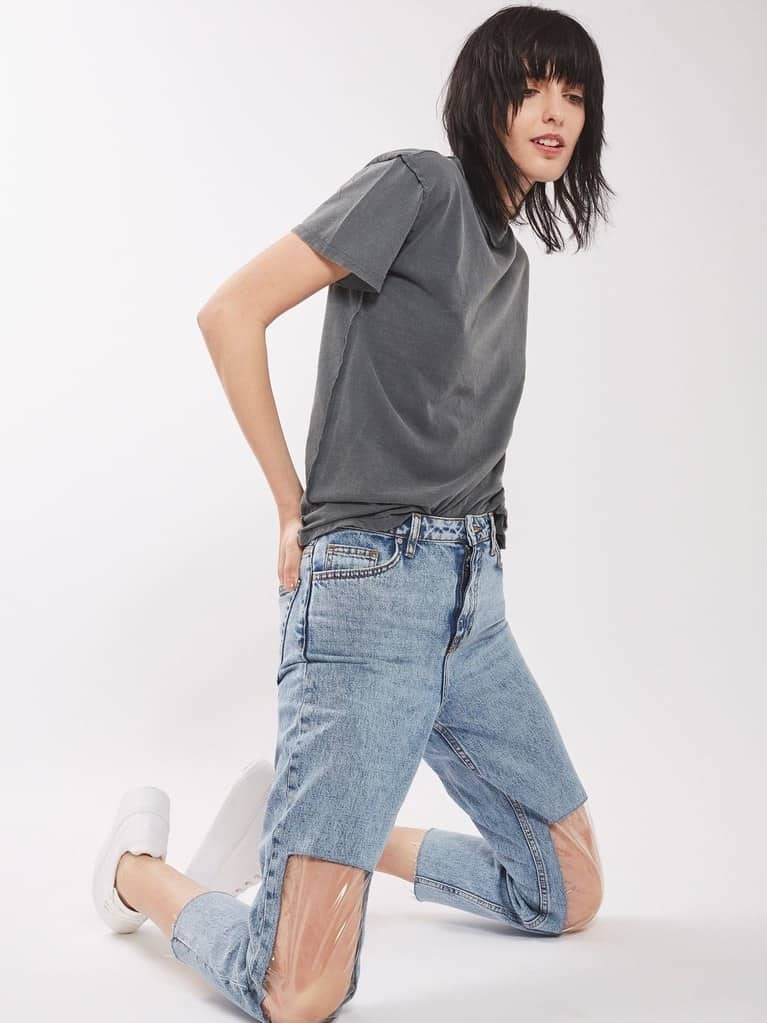 Try Them with a Fancy Blouse
These mom jeans are made to look kind of casual and kind of edgy at the same time. Why not throw another, contrasting look into the mix with a fancy blouse?
Whether you go with something frilly, high necked, or just something in a bold color or pattern, you can show off your jeans and create a cool, put together look by tucking your blouse into your jeans, adding some heels, and strutting your stuff.
This is a great way to make the clear mom jeans even edgier while also adding a little hint of sophistication. If you're brave, you might even be able to try this look out at the office.
Wear Your Jeans with a Cute Cardigan
If you want to play up the "mom" in these awesome mom jeans, consider pairing your jeans with a cardigan or a sweet little sweater set.
You're sure to look adorable and very classic-mom- with just a little bit of coolness thrown into the mix. Add some pearls, flat shoes, and a sensible bag and you're well on your way to winning mom of the year, at least where fashion is concerned.
Go for a 90s Vibe
There is something about these jeans that screams "1990s." You can play up that angle even more by adding in some 90s fashion.
These jeans will pair great, for example, with some simple keds, a tight tank top, and butterfly clips in your hair. If you're brave, you could even rock them with a fanny pack.
Vintage t-shirts with 90s icons are also a fun way to give these jeans a thoroughly retro vibe. Be as brave as you dare; someone is sure to get a kick out of your look, and you're bound to have fun in the process.
Put Cute Leggings Under Your Jeans
You've probably never worn see-through jeans in your life. But, once you own a pair, the possibilities for fashion fun are endless.
One of the best things to do with these jeans, for example, is to put your favorite pair of leggings or tights on underneath them. Leggings with patterns and prints work great for this.
Your leggings will peek out through the clear panes in the jeans, allowing you to show them off and also drawing attention to the cool fashion statement you're making with your mom jeans.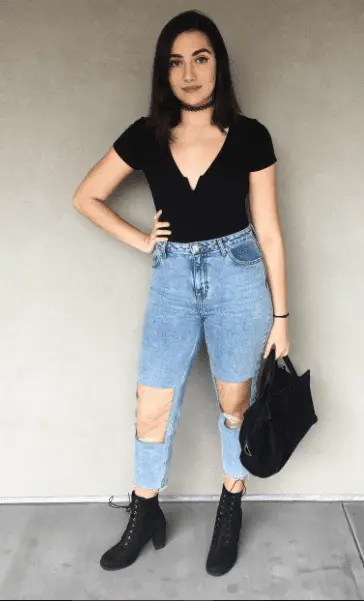 Make Your Mark on Your Jeans
If you're feeling particularly brave or if you've got a flair for fashion design yourself, you may want to try adding your own decorative touches to your jeans.
There are fabric pens that you can buy to draw on your jeans and make a true statement.
Or, if you want to try the 90s thing we suggested, why not "bedazzle" your jeans with gems and jewels?
Puffy paints are also a fun way to make your jeans even more 90s. You could also sew on patches or do anything else you can come up with. Let your imagination run wild, and make your jeans an even more unique creation than they already are.
As you can see, you can do all kinds of things with these jeans, and you can wear them in many different ways.
In fact, by exaggerating your look altogether, you can help get over any embarrassment or worries you might have about wearing these jeans. Sure, they may not be to everybody's liking, but fashion is all about being different, thinking outside of the box, and rocking the looks you want to rock, no matter what anyone else has to say.
Feature image via SheKnows