*This post may contain affiliate links. As an Amazon Associate we earn from qualifying purchases.
Made well, jeans are the must-have staple of any wardrobe. The best jeans are the ones that fit your body and figure. Whether you are lanky, skinny jean loving guy or a lady who can't wait to show off her curves.
This spring, jeans for women lean toward the light wash jeans or casual baggy jeans paired with sexy heeled boots. Perhaps classic Converse sneakers with the iconic crunched down socks peeking out.
On-trend style in jeans for men include darker washes, such as indigo, shocking patchwork, and a high-brow combination of casual and professional pieces.
Basically, while last spring brought straight lines and tailored hems, this spring is all about the casual, care-free, and creative use of denim. Experimentation, a D.I.Y. rough look mixed with high-fashion silhouettes and structuring is what's trending this spring.
We're going to let you in on what's the best jeans trends for men and women and how to have some fun with denim.
Denim Trends for Women
While skinny jeans have become the classic go-to for women everywhere, this season calls for a little more adventurous exploring in the wide world of jeans. Here are a few of the trends rolling in for spring.
1. Fierce Silhouettes
Strong silhouettes take the stage this season with an emphasis on fits that can transition from day to evening wear.
High-waisted jeans are still going strong and their versatility makes it hard to let them go. From the office to a Sunday brunch, high-waisted jeans flatter any body for any occasion.
Baggy is the new skinny this season along with wide-legged pants and trousers. Cropped jeans are the ideal choice for spring's tendency for transitional weather. Pair them with boots, sneakers, or flashy heels.
2. Powdery Colors
The skinny can't be completely dismissed. Skinny jeans in a creamy off-white, airy blue, and pale, seashell pink are a must this season.
This color palette is a fresh shift from the usual lighter wash denims. The colors help make your jeans more versatile as they can be dressed up or down conserving this season's tendency to prefer day-to-night styles.
3. Seminal Indigos
The straight-leg pant has returned for another season, but instead of last season's light washes, this season is about the dark wash. This makes it suitable for both formal and casual chic wear.
Experimenting with hemlines and different cuts in a dark hue can keep this trend fresh. The hue is flattering to curvy women and hour-glass figures and can be used with any cut or fit of jeans.
Trending Jean Styles for Men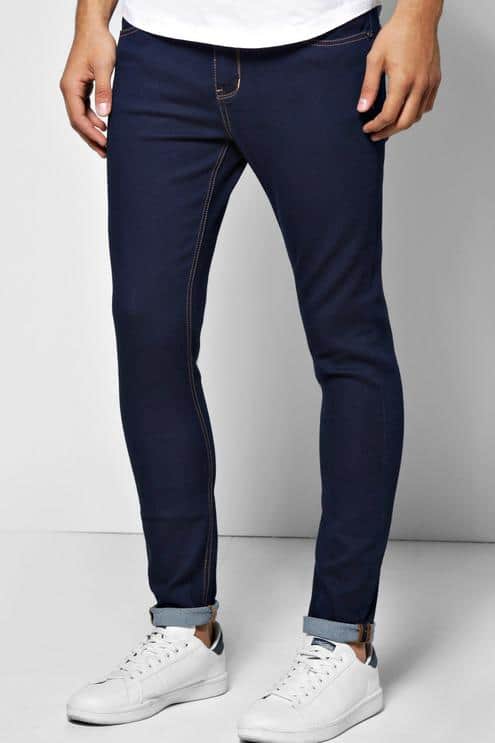 There was a time when men could only wear jeans one way and still be respectable. The jeans needed to be boot-cut or straight, be well-worn with obvious wear, and casual.
One look at fashion icons like Kayne West shows how much men's fashion has evolved. Take advantage of this freedom with these stylish denim trends.
1. Turn-Ups
Perhaps taking inspiration from the music scene turn-ups manifest a cool, laid-back vibe reminiscent of 90s chill. Turning-up has the added benefit of giving your look a different shape.
Best worn with a single, straight cuff this look shows a bit of ankle without looking messy. Go ahead and show those socks.
The turn-up can be used with a slim-fit jean for a sleeker style or with a straight-leg cut for a casual weekend.
2. Dazed Professional
The casual professional style incorporates a seemingly haphazard combination of office wear and denim.
Taking a hint from Dior's more formal take on denim, the style can be created with a structured denim jacket, slim fit jeans in a medium to dark wash, and a button up shirt buttoned to the top.
Finish this up with heavy soled shoes in a bold dark color like black or burgundy.
You're ready for a more formal occasion in an interesting take on the denim trend.
3. Patches
In lieu of last season's ripped jean trend, the patchwork trend offers a new way to wear the distressed look. Patches of different swaths of denim are visually exciting and can be as subtle or wild as you prefer.
Though this D.I.Y. aesthetic used to be limited to subcultures such as grunge, punk, and hippies, it's now being incorporated into high-fashion designs such as those created by Balenciaga and Valentino.
These can be worn with the turn-up style or in a crop cut. Choose patched jeans in a subtle style with two or three different patches for an extra hint of texture.
Have fun with denim this spring and rock your own unique take on the denim trends.