*This post may contain affiliate links. As an Amazon Associate we earn from qualifying purchases.
For a lot of people, jeans are a fashion statement. People buy jeans because they look good, and so their shopping habits tend to revolve around trends. They don't buy jeans because they are durable and reliable. They buy jeans because of the way some model looked wearing them.
You are not like those people. You buy and wear jeans because you have things to do, and you need a pair of pants that can keep up with you. You need jeans that can withstand real work, not just a Sunday brunch.
FOUR BRANDS THAT CARRY THE MOST DURABLE CARPENTER JEANS
That's why your go-to pair of jeans are carpenter jeans. The roomy legs, the extra deep pockets, and the premium denim all help you do better work on the job. They won't win you many points for style, but they're sensible, affordable, and reliable. What else is there?
You don't just work with your hands. You work with your whole body, and you do it under all sorts of conditions, and in different kinds of weather. That makes your choice of jeans about more than just what looks good, and it makes that choice a really important one. You know that carpenter jeans work best for you, but you still need to know where to go to get the best pairs.
Here are the top four brands of carpenter jeans to help you get the job done.
1. WRANGLER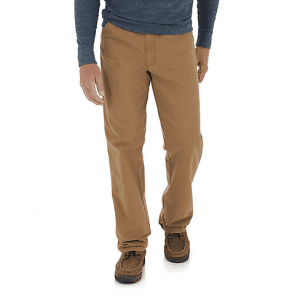 Image via Wrangler
Wrangler is a trusted name in jeans, and it's easy to see why they've been in business for so long. They can make really good jeans that can withstand a working lifestyle.
Wrangler carpenter jeans live up to their rugged name. They're functional first and foremost, and that's just what you're looking for.
They are also made from 100% cotton, and they're made to be broken in. They start out a little stiff, and with time, they conform to your body without wearing out. You don't have to worry that one trip through the washing machine is going to damage them. In fact, it just might improve them.
If you're really serious about your work jeans, you can even choose from select styles of Wrangler Riggs workwear, with a reinforced leather pocket, and a durashield wash to help protect your jeans from cuts and scrapes.
2. DICKIES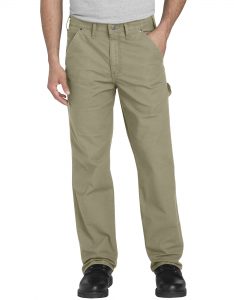 Image via Dickies
Dickies carpenter jeans all have reinforced stitching, extra deep pockets, and extra room in the thighs, knees, and seat. They are designed to be worn by people who move around when they work.
They aren't called carpenter jeans for fun, and the hammer loop on every pair is actually meant to be used. They can withstand all the lifting, walking, and crouching that takes place in any single day of a craftsman. They can also withstand dirt and washing.
You can choose either relaxed fit or straight leg to get the kind of room you need to move freely, and you never have to worry that your jeans are not as tough as you are. Dickies' heavy-duty denim is with you through every pound of a nail and every storm of sawdust.
3. LEE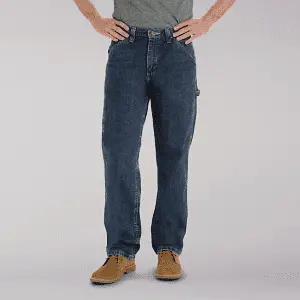 Image via Lee
Formerly known as Lee Dungarees, Lee carpenter jeans are a poly blend that can stand the test of time without wrinkling, stretching, or getting worn out by the demands of your job. The poly blend also gives you a little more room to move, which is something your job requires a lot of.
And though you really probably don't care much about fashion, it's still worth noting that these men's dungarees are actually the most stylish of the list. They're available in several washes, and you can easily wear them from the job-site to the office, and feel comfortable and professional in both settings.
4. CARHARTT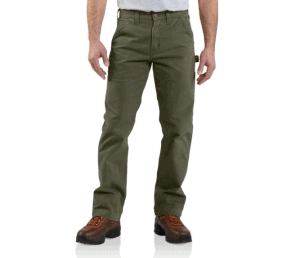 Image via Carhartt
These Carhartt jeans are made to be tough, and yet just a little tender. That's because they are made with flex technology, which gives the jeans some stretch. You might be worried that stretchy jeans are for teenage girls who are on their way to the mall, but actually, denim with a little stretch is good for everyone.
That's because traditional denim is rough, unforgiving, and hard to wear for your long workdays. It has virtually no give to it, so when you are crouching down to examine some woodwork, or climbing a ladder up to the roof, you don't have a full range of motion.
What you really want is the toughness and durability of denim, with just enough give to help make your hard job a little easier. Carhartt dungarees help you accomplish that, but you don't have to worry that your clothing has gotten too trendy in the process.
FIND YOUR PERFECT PAIR OF CARPENTER JEANS
The right pair of jeans is about more than looking good. For you, the right pair of jeans is about a job well done. Carpenter jeans help you get that job done, and now you can shop with confidence to find the best pair to suit your specific needs.