*This post may contain affiliate links. As an Amazon Associate we earn from qualifying purchases.
You probably have heard of Carhartt. Images of rugged men working manual labor may pop up in your mind.
While you aren't wrong, the company has a rich history of being there for the everyday worker, no matter the profession. In fact, Carhartt has essentially become one of the brands that represent the American worker.
With jackets, jeans, work pants, and overalls, they are a one stop shop for both men and women.
Carhartt History
This company has been around for over 125 years. It was founded in 1889 by Hamilton Carhartt. It was original named Hamilton Carhartt & Company.
They started off in a small Detroit loft making overalls. After some failures, Hamilton decided to talk to railroad workers to see how he could improve his product.
With the motto, "Honest value for an honest dollar," the Carhartt bib overall was created and became the standard for workers.
By 1910, Carhartt has grown to include mills in South Carolina and Georgia, as well as sewing facilities in Atlanta, Detroit, Dallas, and San Francisco. In 1929, the company was hit by the Great Depression like everyone else. But somehow through hard work, they were able to stay open long enough to recoup.
During WWI, the company gave the government seven facilities for the purpose of creating uniforms for soldiers. In WWII, they produced coveralls for soldiers and support personnel. They even created jungle suits for Marines in the Pacific, and workwear for women entering the factories while the men were away.
Over the years the company evolved with the times without losing the core ideal of "honest value for an honest dollar."
By updating their products and adding a women's line, Carhartt has maintained their status as a well-known American brand.
3 Pros of Carhartt Jeans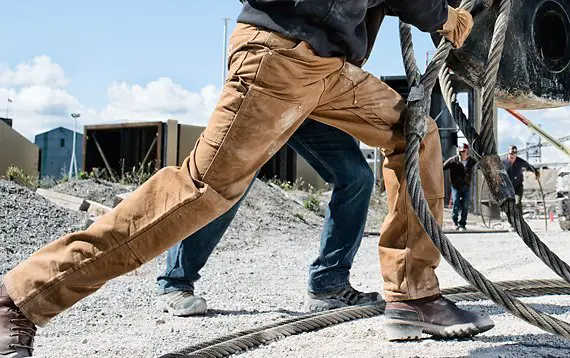 1. Fair Prices
Carhartt work jeans are in the 30 to 60-dollar range, and if they are as well made as everyone says than it is definitely worth the price. If you think about how many times you use a pair of these jeans, then it will not seem like so much money.
2. Durability
According to their website, all Carhartt pants are tough. They have a bunch of different fabric that can stand a beating like, ripstop, weather sandstone duck, firm hand duck, and denim.
3. They Have a Good Size Range
Carhartt seems to be able to dress men of all sizes. With an option to choose both waist and inseam size it makes it easy to find pants that are the right fit for you.
3 Cons of Carhartt Jeans
1. The Site Doesn't Say Why the Pants Are Tough
With boasting about the durability of their pants and how they test the pants before selling them, it's curious how they don't say how they test them. They say they are field tested by "Groundbreakers," but again there is no mention of how.
It would be nice to see how much they put their fabrics through to brag as much as they do.
2. Not A Lot of Style
There are not a lot to choose from when it comes to Carhartt pants. Granted they are more about being durable than stylish, but with same baggy, wide leg style, it can be a bit boring.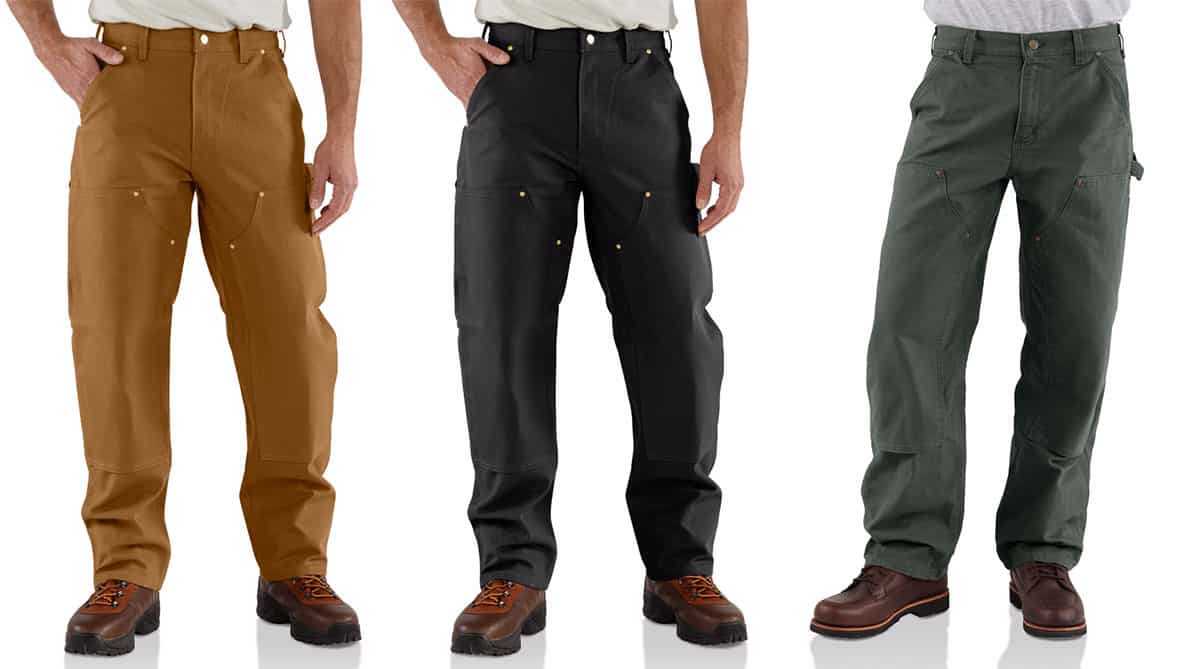 If there are men who want to have durable work pants and be stylish, they may be out of luck. Though everyone's style is different, so who knows.
3. They Don't Have a lot of Physical Stores
While online shopping isn't bad, there's nothing like being in a physical store trying something on. While having a handful of stores, with a brand as popular as Carhartt, you think there would be more. They also don't have many stores that they allow to carry their brand. They have a lot of online retailers though. It just becomes a process if you aren't sure what your size is and order the wrong one, and then have to return it.
Final Thoughts on Carhartt
Utilitarian workwear has recently made its way into high fashion. In fact, the idea of old school Americana has become a fashion movement.
Many people are looking at clothing to go back to simpler times. From raw denim jeans for men to Carhartt Work Pants and jackets – people are picking these clothes to symbolize tough work and simplicity. Even GQ has noticed and has written a whole article about how durable workwear is being mixed with high fashion.
So, whether you need these because you do hard manual work or you like the hard look of it, make sure to know what you want before purchasing. Think about what you need for style, durability and budget.
If you decide this isn't the brand for you at the moment, that's okay because Carhartt isn't going anywhere.