*This post may contain affiliate links. As an Amazon Associate we earn from qualifying purchases.
The 80's are making a comeback in the world of fashion.
Whether you are looking forward to the trend or not, you are sure to see a lot of bright neon colors, high-top sneakers and acid wash jeans in your future.
Introduced in the mid-to-late 1980's by the Italian company Rifle Jeans, this denim style ruled the industry for several years around the same time that hair bands were popular on the music scene.
Today, you can find variations of stone washed jeans in their classic form or as jeggings.
What may seem like a fashion disaster to some is a trendy and expensive fad to others, with pairs of acid wash leggings jeans ranging in the $150 range at popular stores such as Saks Fifth Avenue.
A HISTORY OF FADED DENIM
Although Rifle Jeans were first to distribute acid wash jeans, they were not the first to come up with the concept.
The popular clothing manufacturer Guess? Introduced the first stone washed jeans in the United States back in 1982. Their process involved a type of chemical that would distress the material and give it that faded look.
Image via Today I Found Out
Rifle Jeans later came up with a new process known as "acid wash," which was later patented by the Italian Candida Laundry Company.
The process has many names such as marbled, ice wash, or frosted.
It was a type of chemical bleaching that breaks down the jean's fibers which lead to the faded and bleached look. To achieve the look, the jeans would be washed repeatedly with porous stones and chemicals until they achieve the perfect distressed appearance.
Early examples of acid washed denim include the style that was worn during the 1960's by surfers in California. Their denim would be bleached naturally by the salt water of the beach which caused the clothing to have a worn and lived-in appearance.
It was also very common for jeans to be faded naturally by the sun. It would take a long time to attain this look naturally, so some surfers would speed up the process by soaking their jeans in diluted bleach and add in some sand.
THE POPULAR FAD OF THE 80'S
Cavaricci was the largest distributor of acid wash jeans in the U.S. during the eighties.
Once they were introduced, all types of fashion variations were available from stone wash denim jackets to skirts and shorts. You could even find acid wash socks, canvas sneakers and hair scrunchies with the signature look.
While the style was a big hit with kids and teens at the time, parents were not always thrilled to pay out big bucks for a brand-new pair of jeans that appeared to be worn out and beaten.
Soon after the concept became a hit, those who loved acid wash jeans also began to tear and shred the material giving their jeans a look that was even more distressed than before.
Eventually the fashion industry caught on to the trend and started selling acid wash jeans for men or women with torn knees and legs, that were still just as expensive as ordinary jeans.
And it wasn't long before acid wash accessories such as denim purses, as well as other clothing items like winter coats, skirts, tapered pants and tight jeans.
HOW ACID WASH JEANS ARE MADE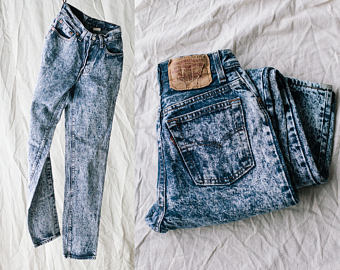 Image via Etsy
You can create your own pair of acid washed jeans in just a few simple steps. To do this, you will need a pumice stone, chlorine, sodium bisulfite, and a washer and dryer.
First, soak the pumice stone in the chlorine and place any pair of jeans along with the stone in a washer. Be sure to avoid all fumes while the washer is going. Check on the jeans after about 15 minutes of washing.
The process usually takes around 25 minutes. However, you don't want to overdo it and end up destroying your jeans. Therefore, you should check to see how the jeans look after 15 minutes and if you desire more fading proceed to 25 minutes. It's a good idea to check every 10 minutes to achieve the right look.
Once you have obtained the perfect look, it's time to rewash.
Make sure the washer is clean before adding the antichlor or sodium bisulfite to the water. Allow the jeans to wash for five minutes. This will remove any chlorine from the fabric that was left behind. Continue washing for five more minutes to remove any grit left behind by the pumice stone. Then place the jeans in a high-powered dryer until they are completely dry.
BRINGING THE 80'S IN 2018!
Whether you loved or despised the look of distressed, faded jeans, the look that was so popular 30 years ago is now making a comeback. Fortunately, we now have a variety of styles to choose from that can help bring this 80's fashion into the new millennium.