*This post may contain affiliate links. As an Amazon Associate we earn from qualifying purchases.
Finding the best maternity jeans to get you through your pregnancy shouldn't be a hassle. You already have a million other factors to worry about as you bring your little one to term.
Are you getting enough vitamins? Have you been avoiding the right foods? Did you practice driving the route to the hospital enough times? Is your partner ready to help you breathe through the labor pains?
Don't let your fashion choices add to the stress. With just a few simple tips, you can find the best maternity jeans for your style and get back to designing your perfect nursery.
Comparison Table
[amazon box="B079BCXZ3Q,B011354S80,B011354WBI,B077R71FM4,B07D9GBP5G,B07J56892S,B07D1H4Y38," template="table"]
CHOOSING THE BEST MATERNITY JEANS
Jeans have become a go-to, every-day option for many women. From board rooms to art studios, women are finding new ways to incorporate jeans into their fashion, dressing them up and down for any occasion.
Just because you're pregnant, doesn't mean you have to give up the comfort of your favorite pair of denim. It merely means you'll have to trade them in for a different pair for a few months.
Maternity clothes are made to fit your changing body. The sizes and cuts of each piece have been made so that they stretch over areas that grow while you're pregnant and still look flattering on your curves. You'll easily find the best maternity jeans to fit your lifestyle.
WHEN SHOULD I START WEARING MATERNITY JEANS?
The good news is you don't have to invest in a whole new wardrobe right away. You can continue to wear many of your favorites for a few months.
Your pants tend to get a little snug towards the end of your first trimester. Of course, every woman's body is different, so you may start to show your baby bump sooner or later than this.
However, once you're bump starts to show and your jeans feel uncomfortable, it's time to make the switch.
HOW DO I CHOOSE MATERNITY JEANS?
Fortunately, you don't have to get refitted to shop for maternity clothes.
Maternity jeans have the same sizing as your regular, pre-pregnancy jeans. They are specially designed to grow with you in the places you need while maintaining the same shape in the areas that don't experience as much change.
We all know that jeans are particular to each woman's body, and every designer uses their unique sizing charts. If you tend to wear different sizes from different brands in your pre-pregnancy jeans, you'll want to shop for a similar difference in your maternity jeans.
The best maternity jeans are made from soft materials that stretch. Stiff jeans with unforgiving fabric may not be as comfortable as you progress through your pregnancy.
Most importantly, make sure your maternity jeans don't put too much pressure on your belly.
STYLE GUIDE
A woman's choice in jeans says so much about her personality. Through our fashion, we get to show the world a little bit of who we are.
This day and age, maternity jeans come in a wide range of fashion choices to let you continue expressing yourself in the same way.
From skinny jeans to boyfriend fit, you can find the right style for your comfort and expression. Even overalls are making a comeback, enhancing your bump with even more cuteness.
HOW WE REVIEWED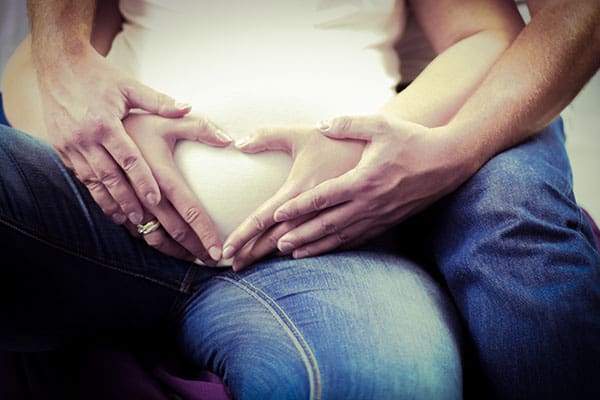 Image via Pex​​els
Fashion is constantly changing. We looked through fashion blogs and reviews to see what styles are trending right now.
If you're spending your hard-earned cash on a wardrobe you'll only wear for a few months; you want the best maternity jeans your money can buy. So we turned to the Amazon customer reviews and ratings to see which jeans they said were the best investment.
OUR TOP CHOICES FOR THE BEST MATERNITY JEANS
There are so many options to choose from. We've narrowed it down to what we think are seven of the best maternity jeans available today. Straight leg, flare, skinny — the gang's all here. So without further ado, let's get shopping!
[amazon box="B079BCXZ3Q"]
Wish you could wear yoga pants into the office? These are the maternity jeans for you.
NYDJ's straight-leg jeans are a cotton blend to give you the ultimate comfort. Nearly every review raved about how soft and comfortable they are.
Their pull-on stretchy jeans feature an extra high waist that covers the entire stomach and hits just underneath the chest to give your bump extra support.
In fact, there weren't any rates under three stars.However, these jeans might be just a little tight for those looking for a looser fit. Also, be aware that the deep blue dye bleeds into your laundry.
[amazon box="B011354S80″]
Looking for something skinny? These stylish skinny jeans come with whiskering at the hips and a beige-tone belly band to help you keep up with the latest fashion.
They've got more polyester and rayon than cotton in their blend, giving them a lot of extra stretch as your belly grows.
These jeans have something others often lack – four usable pockets! That's right, none of those false pockets that have been trendy as of late.
It should be noted that there is some question to the actual "skinniness" of these jeans. Customers who were unhappy with their purchases said these jeans fit too baggy to be skinny. In fact, they say they feel more like a boot-cut jean below the knee.
Though the blend is for comfort, another complaint frequently voiced is that the blend makes these jeans wear out and get holes in them faster than the competitors.
[amazon box="B011354WBI"]
If skinny jeans aren't your thing, then these boot cut jeans might be the ones for you.
Three Seasons makes these jeans with the same blend as their skinny jeans, so they give you the same stretch and comfort with a little more wiggle room in the legs.
Some customers were upset that the dye of the jeans bled into the band after the first wash; others that the seam between the waistband and the denim seems a bit puckers.
On the other hand, nearly everyone raved about all of the pockets in these jeans.
[amazon box="B077R71FM4″]
Who doesn't like to throw on a good boyfriend jean and a flannel to feel cozy throughout the day? These stylish, cuffed jeans will keep you cool throughout the hot months of pregnancy.
Levi doesn't forsake quality for comfort when it comes to maternity jeans. You still get a majority cotton blend in this brand, meaning they'll hold up better wash in and wash out.
There was some concern about the quality of the waistband. Many people noted that it seemed to stretch out faster than they anticipated.
[amazon box="B07D9GBP5G"]
Since skinny is in, we decided to add another one to our list. These are the easiest jeans to dress up and down depending on what your day calls for.
That's another jean with a mostly-cotton blend. A few reviewers pointed out that the thickness and quality of these jeans made them perfect for staying warmer in the winter.
The biggest complaint about these jeans is that they sit too low, exposing the lower back and not providing enough support to the belly.
[amazon box="B07J56892S"]
Do you prefer jeans with more flair at the bottom? Are you looking for the best maternity jeans to pair with your summer sandals? Then Ingrid & Isabel may just make the jeans for you.
These jeans have a crossover panel that creates a gentle forward pull as your belly grows, anchored at the lower back for light support. They have a 50 percent cotton blend, giving them a lot of stretch as your pregnancy progresses.
They didn't have a lot of negative things to say about these jeans, though some women said these jeans didn't fit the way they anticipated.
[amazon box="B07D1H4Y38″]
These are the je​​ans for the fashionistas out there looking to make a statement with their maternity wardrobe.
These trendy overalls are great for every day, casual wear. They have built-in side panels to expand with your growing bump.
They are 98 percent cotton, meaning they'll hold out through your pregnancy and well beyond. The bib makes for easy access when it comes time to breastfeed. Plus it's got an extra pocket.
​Many women expressed how happy they were with the cute factor of these overalls.
Most dissatisfaction was in the fit. Some women didn't like that they weren't skinny at the ankle. Others said the sizing was different than regular jeans, making it more challenging to find the right size.
​
THE FINAL WORD
Image via Pexels
Finding the best maternity jeans comes down to your own personal taste and style.
Take the time to find the right jeans for you. Are you worried about shopping online in general? Try shopping around in a few different stores before it comes time to buy to find the right size and style for you before buying online.
Whichever jeans work for you; we suggest investing in at least two pairs. Being comfortable during your pregnancy is of the utmost importance, and good jeans are hard to come by.
Which maternity jeans do you think are the best? Let us in the comments below what you would add to our list.
Featured Image via Pexels