*This post may contain affiliate links. As an Amazon Associate we earn from qualifying purchases.
THE TOP FIVE LADY'S MID-RISE JEANS FROM FIVE OF THE BEST BRAND NAMES
When it comes to jean shopping, you might feel a little overwhelmed by the sheer number of options out there.Bootcut, straight leg, boyfriend? High-rise, mid-rise, and low-rise?So many different colors and styles to choose from!But what will fit you best?Where do you start?Ultimately you want a pair of jeans that will make you feel good while you wear them. You have to decide what style looks best on your body. A great place to start is with the waistline of the jeans, or where the band will sit.Do you prefer the vintage look of high-rise jeans where they rest on your natural waistline just above your belly button? Or perhaps you like low-rise jeans that sit below or just at your hips.If neither of those sound appealing to you, we suggest mid-rise jeans.Mid-rise jeans sit between your hips and your belly button. They offer more support for your tummy to avoid the dreaded muffin top, and they also look great on those of us with longer legs but shorter torsos.
COMPARISON TABLE
| PRODUCT | IMAGE | RATING | PRICE |
| --- | --- | --- | --- |
| EXPRESS | | | |
| LEVI'S | | | |
| GAP | | | |
| GUESS | | | |
| EVERLANE | | | |
HOW WE CHOSE OUR RATINGS
You want a pair of jeans that's comfortable, durable, and won't break the bank to purchase. You also want them from brand names that you can trust to deliver on all of those points.In order to help you, we've searched through popular brands to find the highest rated mid-rise jeans that we could.We looked at customer reviews and product descriptions. We also made sure the jeans were affordable, so we only listed those that stayed below $130.Ten Affordable Mid-Rise Jeans from Five Reliable BrandsShe's beauty and she's grace, she's got mid-rise style for days!Whatever your reason for looking into mid-rise jeans, the bottom line is wanting style and comfort on a dime.You want to be able to rock a great looking pair of jeans while still having enough money to do the things you'd love to do while wearing them.Whether you're looking for highly stylized jeans or something a little simpler in design, our list of ten affordable mid-rise jeans will help you find what you're looking for.
[amazon link="B074T8XLVP" title="1. EXPRESS" /]
[amazon box="B074T8XLVP" /]
You really cannot go wrong with Express jeans. They offer a large variety of mid-rise jeans, all of which fall below our desired price limit. They also constantly offer various types of sales and BOGO events to help you get even more bang for your buck.Customer reviews are consistently positive, praising Express jeans for being the perfect fit and often "the only jeans I wear!"Our first pick of mid-rise jeans from Express are the Mid-rise Stretch Barely Boot Jeans. These dark wash jeans are sexy and look great on just about anyone.They cost $$ and have just enough stretch to be comfortable without bagging as the day goes on. These are mid-rise jeans you can feel great in no matter what the occasion.Want something with a little more edge? Express' Mid-rise Stretch Super Skinny Ripped Jeans might be what you're looking for. These skinny mid-rise jeans hug your curves without squeezing too tightly. They have some stretch in them and come in a nice medium wash. The ripped detailing is fun and stylish without being too torn up.Overall, we find Express jeans to possess a great variety of mid-rise jeans and jean leggings with consistently great customer feedback. They are reasonably priced and deliver on points of style, comfort, and durability (we know people who have had pairs of Express jeans for years).
We grant Express and our top two mid-rise jeans 5 out of 5 stars.
[amazon link="B0771SDFJN" title="2. LEVI'S" /]
[amazon box="B0771SDFJN" /]
Another heavy hitter in the jeans department, Levi's is a brand you can find in a lot of department stores all over.Their mid-rise selection is large and their general pricing is between $$ and $$$. Some of their jeans drop as low as $$ when placed on sale, however, so keep your eyes open.Levi's is well-known and well-loved by customers due to their dedication to producing top-notch jeans that last for a very long time.The first pair of mid-rise jeans we recommend from Levi's is the 311 Shaping Skinny Jeans. They are very reasonably priced with the price being determined by the color or wash you choose to buy. They are also equipped with stretchy material and a slimming panel in the front to help you achieve a nice shape while wearing them.If skinnies or pants with a lot of stretch aren't your cup of tea, try the 501 Taper Jeans. Like our other pair of Levi's mid-rise jeans, these come in a variety of washes that are very reasonably priced. There are also some distressed and ripped styles to choose from.Unlike the other Levi's jeans, however, these aren't made of stretchy material and don't cling tightly to your form. They are straight-legged with tapering at the openings.Levi's are a brand name we know we can trust to deliver great mid-rise jeans to suit our individual styles that will last.With great reviews from satisfied customers on their site and very reasonable prices on such a wide selection of jeans, we feel confident in giving Levi's, the 311 Shaping Skinny Jeans, and the 501 Taper jeans all 5 out of 5 stars.
[amazon link="B07KK2WY7J" title="3. GAP" /]
[amazon box="B07KK2WY7J" /]
Gap offers good quality jeans at prices between $$ and $$$. They have a wide selection of mid-rise jeans with overall positive reception from customers.Another big name brand, you can find their stores all over if you prefer to try clothing on before you make a purchase. While they do not have anything overly flashy, their jeans are made to last and fit comfortably on anyone.Gap's Mid-Rise Long and Lean Jeans are perfect for those who like mid-rise jeans with a little flare in the legs.These jeans fit snug on the hips and thighs, but have a nice flare starting at the knee to the boot cut bottoms. You can purchase them in a number of washes as well.Oh, and don't worry about them stretching out on you – they're made with a type of denim that's resistant to stretching.Our second pick for Gap mid-rise jeans is the Wearlight Mid-Rise Best Girlfriend Jeans. Customers gave these particular jeans great reviews, praising it for its lightweight material and great fit.These are jeans that you can comfortably wear all-year round whether you're in a summertime valley or a winter wonderland. They come in several washes and the cuff at the ankle can be unrolled. They will flatter your figure without squeezing too tightly.As another well-known brand with a good reputation, Gap jeans deliver on our main points of interest for what makes a good mid-rise jean.We happily give them, the Mid-Rise Long and Lean Jeans, and the Wearlight Mid-Rise Best Girlfriend Jeans 4.5 out of 5 stars for affordability, comfort, durability, and overall customer satisfaction.
[amazon link="B0799KHR9L" title="4. GUESS" /]
[amazon box="B0799KHR9L" /]
Guess is a big name with an even bolder style to their mid-rise jean selection. You won't find many ordinary jeans here.You will, however, find jeans with flare and attitude that is on-trend. While a little higher in price, most Guess jeans still fall within our budget and meet our other standards for comfort, style, and lasting a long time. If you enjoy standing out in a crowd, Guess jeans might be your perfect fit.Do you want a bold pair of jeans to match your outgoing personality? Guess's Rhinestone Fishnet Sexy Curve Jeans are you mid-rise soul mates.These medium wash bad boys will make you feel like a rock star with their destroyed design and rhinestone embellished fishnet peeking through the holes in the legs. As skinny jeans, they will contour to your form so you can feel confident and alluring as you strut around town.If you like the destroyed look on jeans, but want something in a color other than the standard blue, take a look at the Black Stone Sexy Curve Skinny Jeans. These come in a unique faded black color labeled Black Onyx by Guess. They are skinny fit and sit at your hips as most mid-rise jeans do. To further set them apart from other mid-rise jeans, these also have a line of rhinestones along the outer leg seams for a little extra bedazzlement.If you enjoy rocking mid-rise jeans that stand apart from the crowd, Guess will definitely have something for you. Their selection of creatively stylized jeans is sure to please.Guess and both selected pairs of jeans receive 4 out of 5 stars.
5. EVERLANE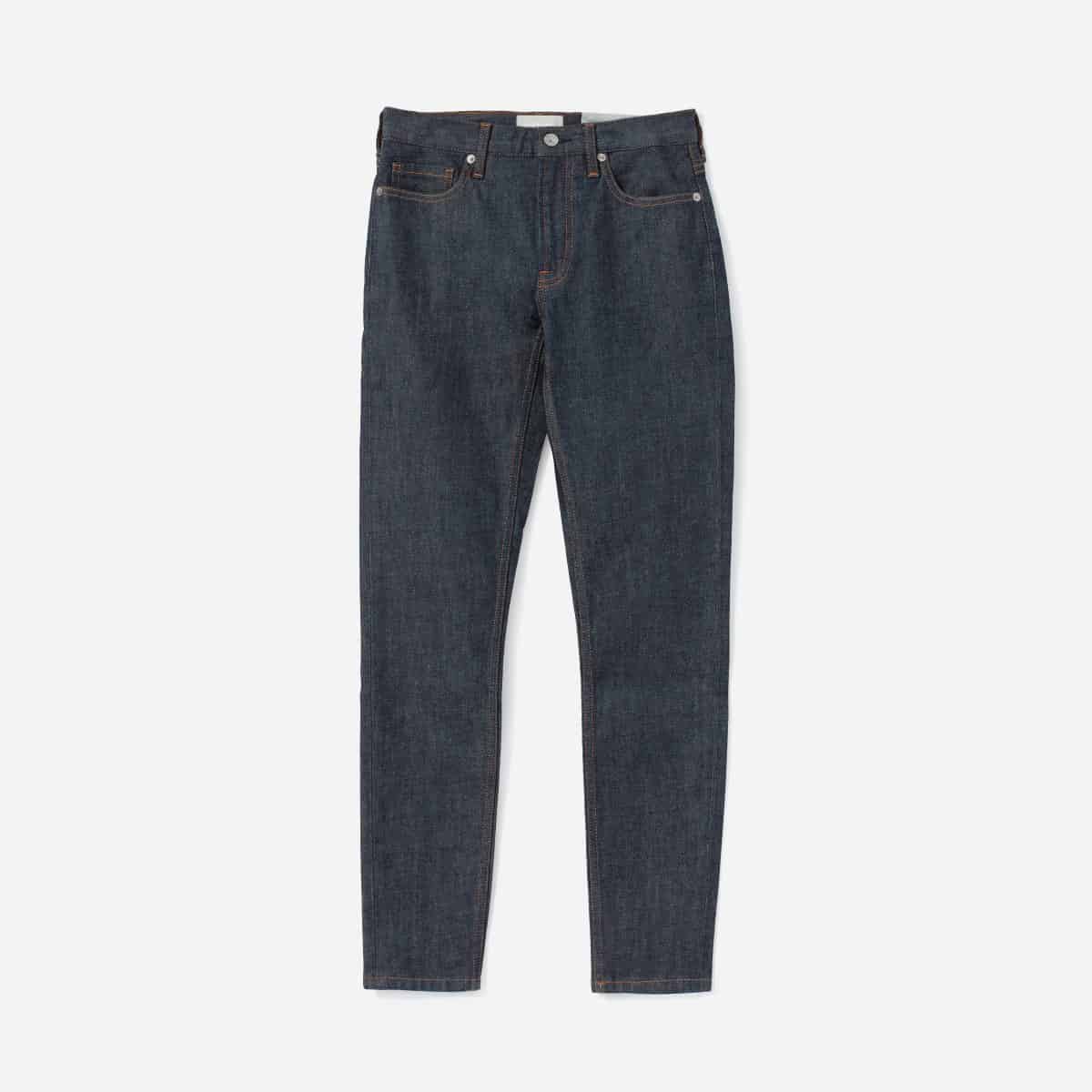 While their selection of mid-rise jeans is rather limited, Everlane delivers on customer satisfaction with reviews in the thousands and very high ratings.
Their quality mid-rise jeans are made from premium Japanese denim and cost $68 regardless of what wash color you choose to get them in.As a bonus, Everlane has high standards on being an ethical business and provides links in all product descriptions that bring you to a page with information and picture tours about their factories.Everlane's Mid-Rise Skinny Jeans have customers raving happily about them. These jeans fit comfortably on your hips and have just enough stretch to contour to your body without the risk of bagging. They also come in five different wash colors, including white and black. Customer also discussed how pleased they were with the quality of these skinny mid-rise jeans.If you love skinny jeans, but want something just a little more trendy, Everlane has the Mid-Rise Skinny Ankle Jean.Cropped jeans are in-style and these mid-rise skinnies will help you stay trendy both in your leisure time and at work. Like Everlane's standard mid-rise skinny jeans, these ankle jeans come in five wash colors and will not stretch too much after being worn for longer periods of time. Show off your cute shoes or ankle bracelets with these.Despite their smaller selection of mid-rise jeans, we can't argue with the overwhelming number of positive reviews Everlane has received for its denim collection.Customers adore Everlane for their comfortable, stylish, and durable jeans.Those qualities combined with Everlane's dedication to ethical business practices and affordability allow us to give them and their mid-rise jeans 4 out of 5 stars.Discover Your Own Mid-Rise Soul MateDon't let the rise of high-waist jeans worry you if those aren't quite your style – there are still plenty of brands producing quality mid-rise jeans to suit your needs.Whether you're looking for something elegant and professional for your business life, something trendy or unique to stroll around town, or merely something comfy to lounge around your house in, there is a perfect mid-rise pair of jeans for you.With this list in mind, you can more easily find your mid-rise jean perfect fit.
BUYER'S GUIDE
Sometimes, we just have to find our own mid-rise jeans. If you find yourself seeking something different than what we have listed here, allow us to help you in your search.We want you discover that perfect pair of mid-rise jeans, even if it wasn't on our list.First and foremost, ask those close to you who wear mid-rise jeans where they got their own pairs and what brands are their favorites. This can give you a solid idea of where to start your search.You're also guaranteed a more honest review of a pair you may have been considering when you ask a friend or family member.Some people are perfectly fine with ordering clothing online, but we understand the risks involved with being unable to try clothing on before purchase.Pay close attention to what other customers have to say about a pair of jeans before you buy them. Even more importantly when purchasing mid-rise jeans, read the product details, as not all styles of mid-rise jeans will sit on exactly the same area of your waist.You will also want to read any sizing guides or charts available to you for each pair of jeans you look at.We understand that you might be uncomfortable shopping for jeans online. When you shop in-store, make sure to try on many styles from many brands.Be patient and don't be discouraged if you don't find that perfect pair of mid-rise jeans in the first store you go to.  Even though mid-rise is a common style, they won't all look or feel the same on you.We hope you found this helpful and wish you luck on your search!