*This post may contain affiliate links. As an Amazon Associate we earn from qualifying purchases.
What Are Boyfriend Jeans?
If there's anything that changes as quickly as the weather, it's definitely the style of jeans that is considered trendy at the moment.
From skinny to high-waisted, jeans are always in, but fashion trends come and go. So what's the latest when it comes to jeans? What's the new style that everyone is wearing? That would definitely be boyfriend jeans.
Boyfriend fashion consists of pieces of clothing that appear as if they were originally made for men but are modified to be worn by women. Women's clothing is usually tighter and hugs the waist and hips to accentuate the body's natural curves.
This is the complete opposite to the boyfriend style, in which clothes have a loose fit and could be unisex because they would fit both women and men. You can find all sorts of articles with this style today. Everything from jackets, to t-shirts, and even jeans.
What are Boyfriend Jeans? The Qualities to Look For
Boyfriend jeans, more specifically, are a real masterpiece. But it can be a bit hard to understand what they are. Are they simply oversized jeans? Do they always have to be ripped and damaged? And, how can you style them to avoid looking like you stole your dad's jeans and wore them out? These are a few of the frequently asked questions that shoppers usually have. Don't worry! Today we'll answer a very important question: What are boyfriend jeans? And many more.
[amazon link="B06XZT828X" title="LOOSEY-GOOSEY" /]
[amazon box="B06XZT828X"]
The main thing to remember about boyfriend jeans is that they are loose fitting. There are different types of boyfriend jeans but none of them are tight because a relaxed look is a must if you want to rock this style.
This trendy article of clothing became popular when Marilyn Monroe wore a pair of boyfriend jeans during the 60s. It's not a secret that she was a fashion icon, therefore everything she wore became popular at the time. She turned what could've been considered an inappropriately large pair of jeans into a fashion statement.
Considering the comfort that these pants provide, it's easy to see why women love them. Honestly, women don't get to wear very comfortable things most of the time, so we'll keep them in style for as long as the world will let us.
Not all boyfriend jeans are baggy, some of them are tighter and slimmer. This can accentuate your bottom or perhaps hug your ankles a bit more. It's up to you if you like a more tapered version of the jeans.
For a more classic look, you can opt for the baggier style, which is normally flattering for any body type. It also depends on the top that you are going to wear with the jeans, the shoes, and the occasion. Perhaps for a night out, you'll prefer a tighter fit, as opposed to a morning at brunch where you can simply pair the baggy jeans with a cute top and call it a day.
Just remember that boyfriend jeans are still chich, even if they aren't tight like skinny jeans. The concept of women wearing men's clothes is considered sexy and attractive, so you can't really go wrong with whichever fit you prefer.
So Many Styles!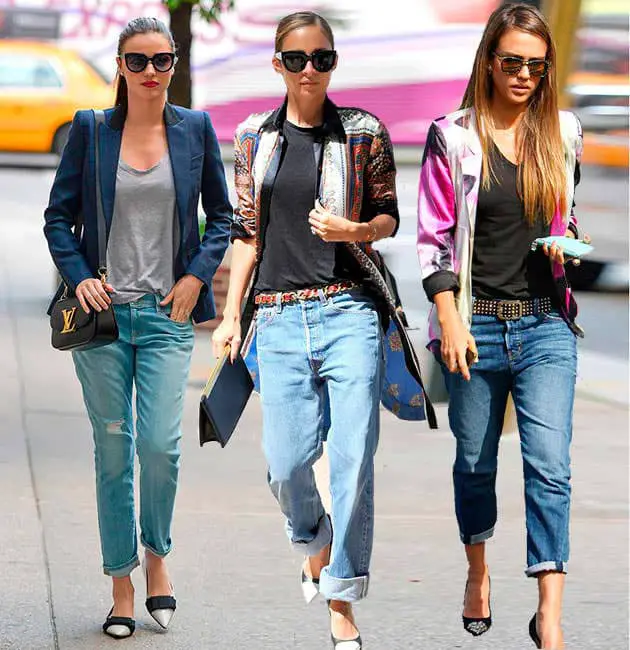 Another characteristic of the boyfriend jeans is that they usually look distressed. This is another optional quality since not all boyfriend jeans look ripped and worn. Brands go through a lengthy process to make their jeans look distressed. It usually involves cutting them with scissors and blades, pulling threads all over, and sometimes even washing them with rocks several times. This type of jeans fits perfectly with the carefree, edgy look.
So, if you're going for that you can find all sorts of options depending on how ripped you like your jeans to be. If you want to pull off a more polished look, then you probably don't want your pants to look ripped. In this case, simply roll up the bottom of your jeans and pair them with a professional looking blazer.
[amazon box="B074DWQ68T" /]
You can also use high-waisted boyfriend jeans if you have a top that would look good tucked in or if you want to rock a cute belt. This style of jeans looks great paired with a cardigan. It hugs your waist, giving you a more feminine appearance.
High-waisted boyfriend jeans are the perfect combination of two very popular styles. Wear them combined in the same piece of clothing and that way you don't have to choose your favorite one, you can simply wear them both.
For a younger look, you can rely on a low-rise pair of jeans with a bit of damage on the knees and a crop top. The short length of the top and the baggy appearance of the jeans create a trendy tomboy appearance. You can pick a t-shirt and a pair of sneakers for a sporty look, or a top with a pattern for a chic appearance.
Blue Is the Best Color
Color and hue are also important. A lighter shade of blue is appropriate if you are wearing your jeans mostly during summer and spring. We think these two are the best seasons to pull your boyfriend jeans out of the closet and wear them as much as you can.
However, if you are planning to wear your jeans during the winter and spring, you might want to buy a darker shade of blue, simply because it will pair nicely with the colors that you wear during those seasons.
The same goes for ripped boyfriend jeans. You might want to wear those during the warmer months instead of during the winter when it gets colder. Depending on the color and style of the jeans, you can pick the best pair, but boyfriend jeans are definitely a trend that lasts year-round.
Now that you've matched the occasion with the color of your jeans, you can think about the shoes. It may seem like you always have to wear your boyfriend jeans with heels to make them look fashionable, but this is not the case. These jeans are the perfect opportunity to wear your favorite shoes and show them off. They offer a short length that stops at your ankle and brings attention to your footwear. If you decide to wear sneakers, you can put on a tank top and wrap a flannel around your waist for an effortless look that looks good on everyone.
Bringing Sexy Back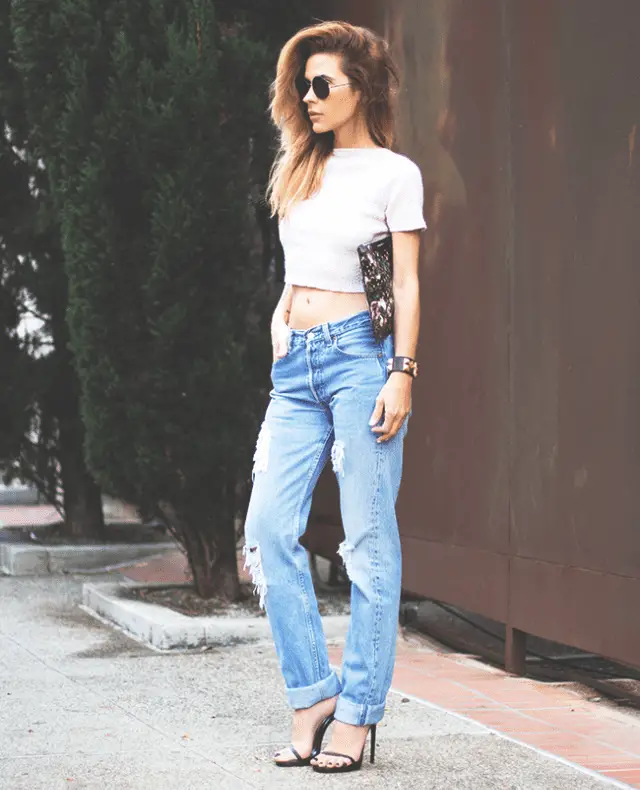 Making your pair of boyfriend jeans look casual is an easier task them making them look more polished. Although this isn't a piece of clothing that you could wear to a formal event, you can definitely dress up your pair of jeans.
If you are going out to dinner you can wear a tight turtleneck with a pair of booties.  it's important that the top of your outfit is tighter considering that the jeans are baggy.  With a tight top, you can create a more flattering figure. However, if you want to wear a loose top that is a great option as well. You can tuck it in in the front and leave the back out to accentuate your waist while still creating a casual loose look.
Strappy shoes are boyfriend jeans' best friend because they can turn your jeans into a nighttime piece of clothing that you wear out to town. Once you put on a pair of heels your outfit changes completely and you go from casual to sexy. This is because your legs look longer and by consequence, the jeans look less oversized.
Feel free to wear a bodysuit under your jeans to avoid struggling with tucking in your shirt.  There are different styles of bodysuits to choose from,  so take a look around and pick your personal favorite to create your own style.
Make Them Your Look
Now that we've answered the question of the moment: What are boyfriend jeans? We can say that they're the most comfortable yet fashionable pants ever invented!
You can add your own definition to this timeless trend. Celebrities wear it all over New York City and LA, so now you can rock it in your own town to go out or simply to run some errands.
Don't forget that boyfriend jeans are flattering for everyone, so you don't need to worry about finding the ones that fit perfectly. They are meant to be loose and comfortable, not tight and restrictive like most clothes made for women.
Marilyn Monroe gave us the best gift ever by making these jeans trendy.  Take advantage of Marilyn's great fashion sense and buy yourself a new pair of boyfriend jeans as soon as possible!