*This post may contain affiliate links. As an Amazon Associate we earn from qualifying purchases.
Dark wash jeans are a great alternative to the usual blue denim material that most of us have so much of. The darker fabric is a good option for your winter wardrobe and it goes so well with bold colors or patterns.
If you can't seem to find the right style of dark jeans at your local store, you can always dye your own jeans and change up the look of your favorite pair.
Dark blue, gray, or black designer jeans can make an impressive fashion statement. They can be worn with a button up dress shirt, or any type of casual wear.
There are several major jean brands that manufacture quality dark blue jeans and you can find them within an affordable price range. These jeans are traditional, classic, and have a look that will remain relevant for years to come.
Dyeing Your Blue Jeans Darker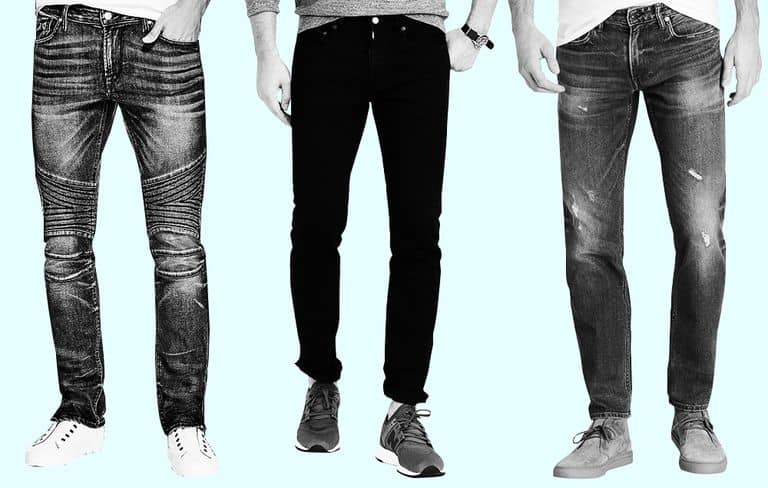 You don't have to be an expert in fashion to correctly dye your favorite pair of jeans and make them a shade or two darker. This is a great way to keep your favorite pair of comfortable jeans while completely changing the way they look.
Shopping for jeans isn't an easy task, however.
So if you can avoid doing that and end up with the perfect pair of dark blue jeans, you can avoid the struggle.
Dyeing Your Jeans in 5 Easy Steps
Here is a step-by-step guide on how to dye your jeans.
First, you will need to completely soak the jeans. You can do this in your sink or tub or place them in the washer for a pre-soak wash if you have that option on your machine.
Then, fill up a large basin or your washing machine with hot water. Add in a cup of salt and allow it to dissolve.
Pour in a full bottle of Rit Dye Black and a bottle of Rit Dye Navy Blue. Rit can be found in various retail and craft stores, any place that sells sewing materials.
Allow the jeans to agitate for 30 to 40 minutes in the machine or by hand.
Then rinse and allow to dry. You may want to dry them on a clothes line to help preserve the color. To remove the dye from your washing machine, run the machine through with bleach.
More Tips to Keep in Mind Before Dyeing Your Jeans
Blue to Black Ratio
Rit Dye works very well and will cover the denim evenly with no areas of fading or darker spots. It is best to do a 1:1 ratio of dye, using one bottle of black and one of navy blue.
Adding too much dye could cause you have unpleasant results where the denim is much darker than you anticipated. Two full bottles of navy blue and black dye will provide you with a classic dark blue shade.
If you want your jeans to be nearly black, using two bottles of black dye and one bottle of navy blue should do the trick. You can dye your jeans with any color you want, you don't have to stick with dark blue. However, the black and blue combination looks more like the traditional colors that you would find in stores.
Going for Bolder Colors
If you want to go with bold colors such as purple, pink or teal, you will want to use a light shade of denim or white jeans. This will provide you with the best results. The dye is a great way to experiment with different colors and breathe new life into your old pair of jeans.
Drying Basics for Your Jeans
The dye will stay on the jeans even after multiple washings, however drying the jeans in a dryer may cause the color to fade. So, to keep your jeans looking their best as long as possible, you will want to use a clothesline to dry your dyed denim. And you will definitely want to keep these items separate from lighter clothing.
The dye on your jeans will not rub off onto anything such as furniture once they are dry. However, while they are still wet, the dye can rub off on other surfaces, at least following the initial wash. So, use caution when you are taking them out of the washer and placing them on the line to dry.
How to Clean Your Washing Machine After Dyeing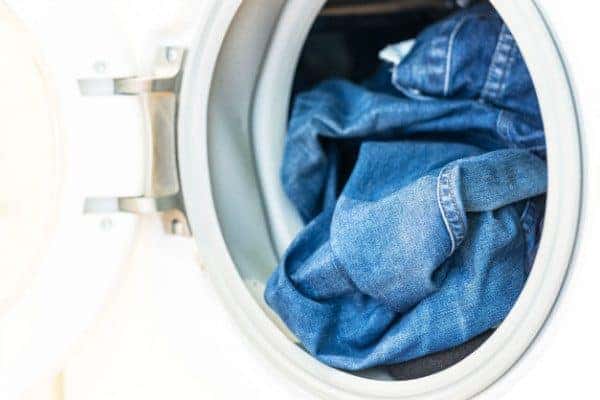 You don't have to worry about the dye damaging your washing machine. However, you will have to clean it thoroughly after each dyeing process. To clean, run the machine empty and add in bleach. You should do this immediately after you have dyed clothing to remove the dye from your machine. Otherwise, it could stain the inside of your washer.
Create a New Look to Your Old Jeans
Dyeing your jeans is a great way to get more use out those that have become worn or faded. Whether you want to revive your old pair of classic style jeans or revamp the look of your high waisted skinny jeans, you can recreate the original look of your favorite denim items with very little effort.