*This post may contain affiliate links. As an Amazon Associate we earn from qualifying purchases.
Do you know the difference between distressed and ripped jeans? Many people think that the names are interchangeable and describe the same type of clothing, but that is not true.
Ripped jeans and distressed jeans may feature a worn, lived-in look, however they are two very different styles. Once your favorite pair of jeans begins to become worn and frayed, you may think that its time to trash them.
But, since distressed jeans are coming back in style, you may want to hang on to them.
Worn and faded jeans have been a great fashion trend for many years. They were made popular during the mid-80s when rock bands with big hair and all types of damaged denim ruled both the music and fashion industries.
The style died down during the early 90's and then came back with a vengeance once alternative music became popular. Pairing ripped or distressed jeans with a flannel shirt was considered a fashion statement at the time and we never had more comfortable clothing to wear.
The Difference Between Ripped and Distressed Jeans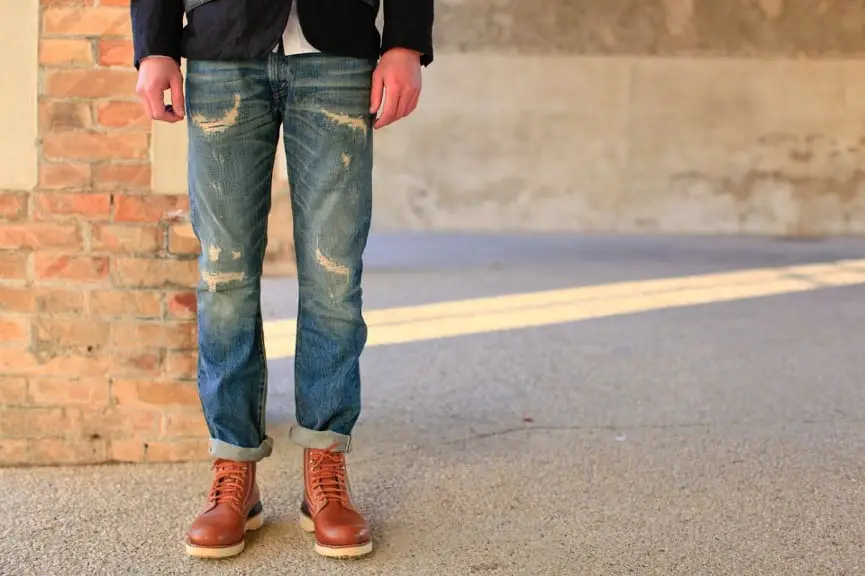 Ripped Jeans
Ripped jeans are self-explanatory, they are jeans that have rips or holes in the fabric, usually at the knee, but they can be found anywhere.
This is a popular trend that dates to the 1980's.
The trend has never really gone completely out of style, with it returning in the 90's thanks to the alternative music scene.
While you can easily create your own ripped jeans after wearing and washing the same pair over time, many popular clothing brands have made a fortune over the years selling jeans that look like they've gone through years of wear and tear.
Distressed Jeans
Distressed jeans also have a vintage, worn out look that was made popular around the same time as ripped jeans, however there is a difference.
The jeans feature fraying instead of ripped holes, with frayed fabric where the holes would be. It is common to find distressed jeans that have faded fabric, bleached areas, and frayed hems or seams.
Like ripped jeans, you can create your own pair and save yourself some money by distressing an old pair of jeans yourself. Or, you can pay to purchase a pair from your favorite retailer.
Distressed jeans in men's and women's styles are also making a comeback these days and can be seen worn by many celebrities and models on the runway.
Dress Up Your Distressed Jeans
Just because distressed jeans have a worn-out look to them, it doesn't mean that you can't dress them up and wear them for date night or a girl's night out.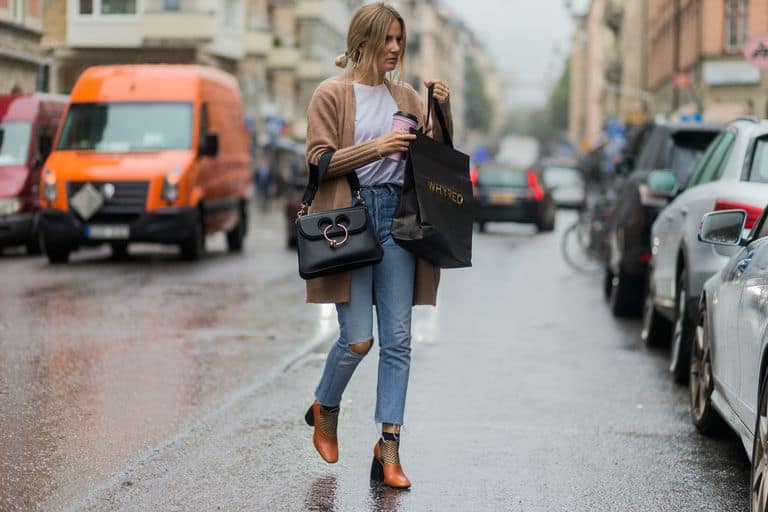 You can add more style to your distressed attire by wearing a fancy blouse or crop top. Or pair them with a blazer and stylish pumps for a semi-casual look. The distressed look will work with every kind of jeans whether they are boot-cut, skinny jeans, or classic fit.
So simply pick out the style that you love and add the distressed effect to them to get in on today's top fashion trend.
The Types of Damage Your Distressed Jeans Can Have
Usually you will see three different types of damage in worn-out jeans. This includes holes, shreds and scrapes.
Holes
Holes are usually started at the knee and grow larger over time. They shouldn't be any wider than the entire width of the leg and they shouldn't be more than an inch high once you are standing up.
Shreds
Shreds are places where the fabric has been torn, but instead of a hole, the threads remain. This is seen in distressed jeans.
Scrapes
Scrapes are tiny abrasions or scratches that are usually the first sign of wear on your old jeans. They are typically between the size of a dime or quarter.
You can allow this damage to occur naturally with your favorite pair of jeans, or help it along by cutting or shredding the material yourself.
The Ripped or Distressed Look Works for Everyone
Ripped or distressed jeans can also work with any type of wash or fading.
You can choose from colored or black ripped jeans to add versatility to your wardrobe. Black jeans that feature a distressed look have the contrasting black and white appearance that works well with any type of attire. And black ripped jeans are a great option when you are going for a dark and alternative look.
The style is so versatile that anyone can pull it off. You can find classic blue or black ripped jeans at the men's or women's section at most major retailers.
It's important when creating your own distressed jeans, or buying them, that you go with a reasonable amount of damage. We've all seen the guys with multiple gaping holes in their jeans that aren't even covering the leg. To avoid being a fashion disaster, go with jeans that have around two and half holes or distressed areas, with the half being a single scrape.