*This post may contain affiliate links. As an Amazon Associate we earn from qualifying purchases.
​There is nothing more satisfying than finding the perfect pair of jeans.
Seriously, once you find the pair do not ever let it go. So much effort goes into finding jeans that feel like a mere extension of your body – you have to consider the fit, which cuts you prefer, a wide range of washes and so much more. It can be such a chore.
Luckily for you, we are here to make your hunt for the perfect jean a bit easier. While raw, 100% cotton denim is very on-trend for men's jeans we are making the case for sticking to reliable, comfortable, stretch denim.
Now, we aren't saying you should walk around in a pair of jeggings. When we say stretch denim, we mean jeans that are typically made with 1% to 3% elastane. They look like regular jeans, but give the wearer a bit more flexibility and comfort than their raw denim cousins.
So, if you've tried the raw denim trend and aren't really feeling it or just want a solid pair of comfortable pants, we've compiled a list of some of the best men's stretch jeans brands out there.
​Our 7 Favorite Men's Stretch Jeans
Here is a comprehensive list of our all-time favorite stretch jeans.
You'll look as cool as that hipster dude in his raw denim pants, sipping on his IPA – but you'll be about 50 times more comfortable than him.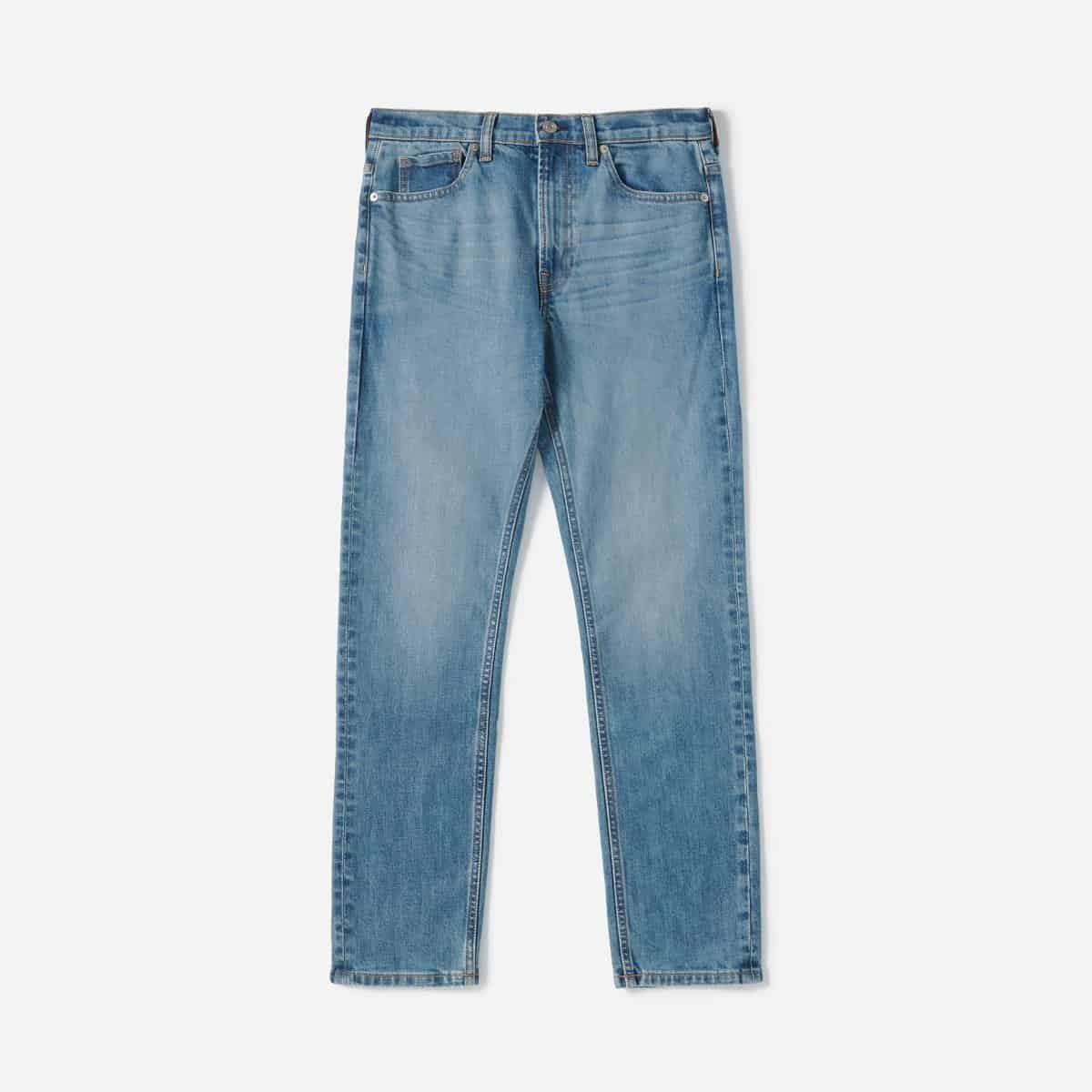 ​If you haven't heard of Everlane yet, then thank god you are reading this.
Everlane is a pioneering, "Silicon Valley Fashion" company located in the Mission District of San Francisco. It is a leader in timeless, basic apparel and promotes radical pricing transparency and ethical production. Plus, Everlane's jeans are seriously to die for.
The men's Slim Fit Jean is made with premium 11-ounce Japanese denim with a slight two-way stretch for ultimate comfort and mobility. The composition is 98% cotton and 2% elastane, so they feel super durable.
The cut is slim through the hip and thigh, with a slightly tapered leg and a regular rise. This jean comes in two lengths (30 and 32-inch) and four washes (dark indigo, mid blue, black, and dark blue) for every body type and style preference. If slim fit doesn't fit your vibe, they also offer a straight leg in the same stretch fabric.
Plus, you know how we mentioned the company's commitment to price transparency? Well a jean like this typically retails at $155, but Everlane is selling for just $68. We've never found a jean at this price point that fits and feels this great.
To top it off, the jeans are made in the world's cleanest denim factory that recycles what 98% of the water used during production. Amazing, right?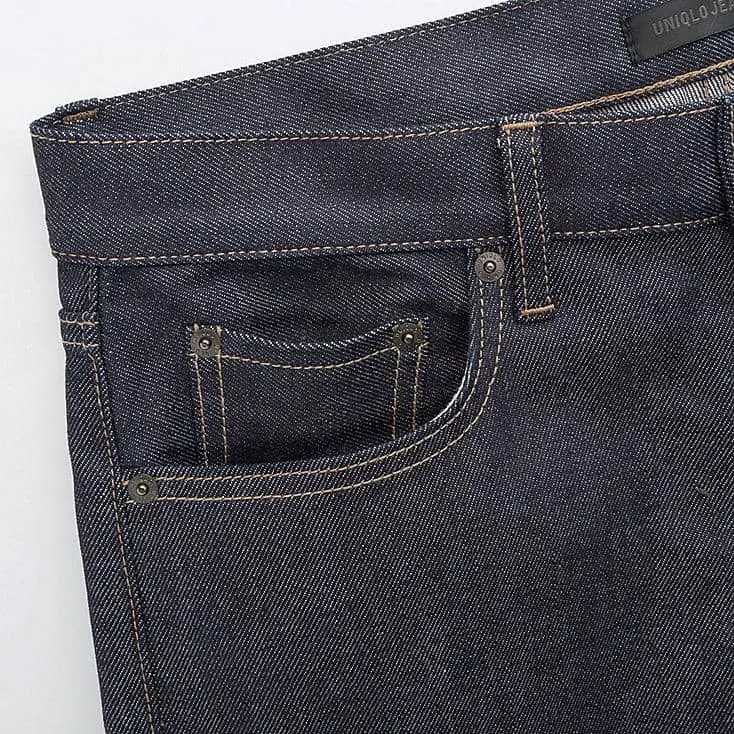 We love the look of traditional selvedge denim, and lucky for us (and you), UNIQLO has made a stretchy pair for the perfect combination of authentic style and comfort.
This jean is woven on old-fashioned shuttle looms using innovative, lightweight selvedge denim. It's classic and refined with the honeycomb fading and old-school rivets and seaming.
UNIQLO has certainly given us that vintage, raw denim-look with the comfort of newer jeans. Like the Everlane jean, this pair is 98% cotton and 2% Elastane, so it has just enough "give" to be comfortable without getting too stretchy. Plus, this cut looks good on pretty much any body type.
You probably won't believe us when we tell you, but this stretch jean is crazy inexpensive. We're talking just under $50 a pair. Our minds were also blown away, especially since it's not a low-quality jean. UNIQLO pulls the Japanese values of simplicity, quality and longevity into its production process so you end up with perfect building blocks for a modern, yet timeless wardrobe.
The Selvedge Slim Fit Jean comes in six different washes, but we particularly love the 69 Navy wash for that ultra-authentic feel.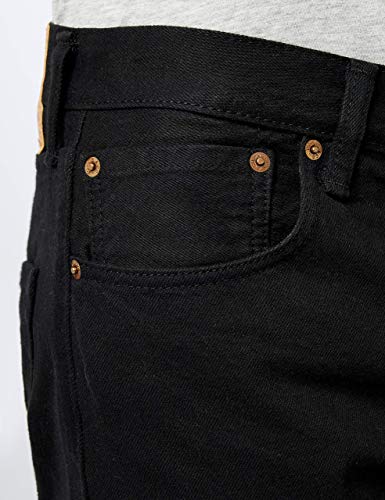 How could we not include the 501® on our list? This Levi's® jean is hands-down a cultural icon and has defined both men's and women's fashion for generations. It's like a chameleon that can mold to fit anyone's unique style, which is why we're such huge fans.
As you may or may not know, the 501® is famous for its straight fit, button-fly and five-pocket styling. It sits right at the waist and can be worn with a rolled hem or full length (like we said, you can make this jean fit your mood). The leg has a 16.5-inch opening so it's a true straight cut for you lovers of classic denim.
This jean only contains 1% elastane, so it has the least amount of stretch on this list so far. However, it also comes in 17 different washes so it's insanely easy to find a pair that fits your personal style. Heck, you can probably find a couple of pairs to add to your denim collection.
And, with the Levi's® name you know you are getting an excellent quality jean at a reasonable price point (though the pricing will vary a bit between the different washes).
The company is super committed to making comfortable, stretch jeans that still look ultra-authentic and high quality. With the 501® stretch jean, you're going to totally pull off that cool, effortless, all-American style.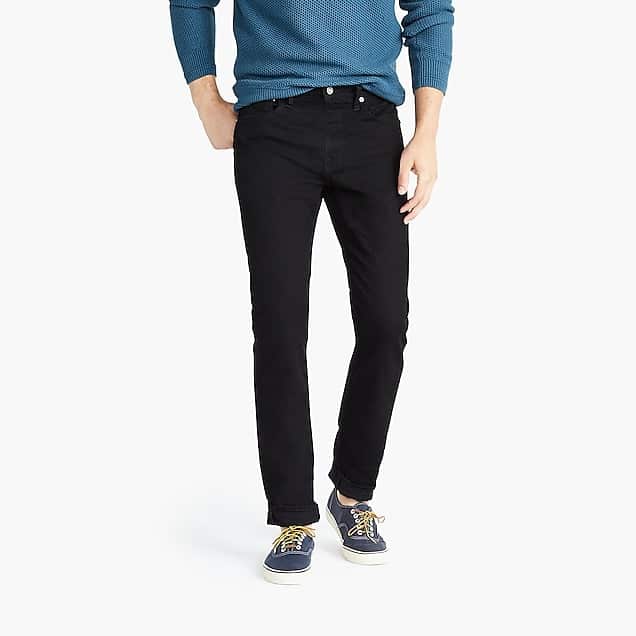 This one is for the now grown-up punk kid who probably works as a freelance graphic designer – not that we're trying to get too specific.
But for real, we love a good black jean and J. Crew definitely knows what's up when it comes to sharp, clean looks for you cool adults out there. It's perfect for guys who feel a bit too old to rock a super skinny jean, but still want an ultra-slim, tailored look in a great stretch fabric.
This jean is made with a blend of cotton and polyurethane for extra elasticity, meaning you could absolutely ride your bike in these pants. The fabric is cut from Kurabo, the first Japanese selvedge denim producer ever. It's got a zip fly and traditional five-pocket styling, and sits right below the waist for a modern rise.
At $98 it's totally worth the price, especially since you'll be investing in a wardrobe staple that will last you years. We picked the black because we love a high-quality black jean, but it also comes in other washes, including garment-dyed denim. Just peruse the J. Crew site to check out all of your options.
You definitely won't regret buying this jean, as evidenced by the fact that it's been known to sell out online.
We've given you a bunch of clean-cut stretch jeans on this list, so we figured we'd throw in an edgy, destructed pair. Available at Urban Outfitters for around $60, this BDG brand jean is designed in icy bleach washed denim with shredded details in a true skinny fit.
Seriously – it's super skinny.
The leg opening is only 6.25 inches and it hugs the thigh and knee. The destructed detailing makes it feel more relaxed, however, and you will definitely still be able to move around comfortably thanks to the cotton-spandex blend. It comes in two lengths and a wide range of waist sizes to fit a variety of bodies.
This is definitely a unique take on a classic style jean. The BDG jean brand is known for its affordable twists on more traditional style pants, though it does offer some great basics in the denim department.
If the destructed, bleached look isn't your thing, we definitely recommend taking a look at other BDG styles for your stretch jean needs. But this particular style is super edgy with a subtle vintage vibe if you want to go a little bit outside the box with your denim choices.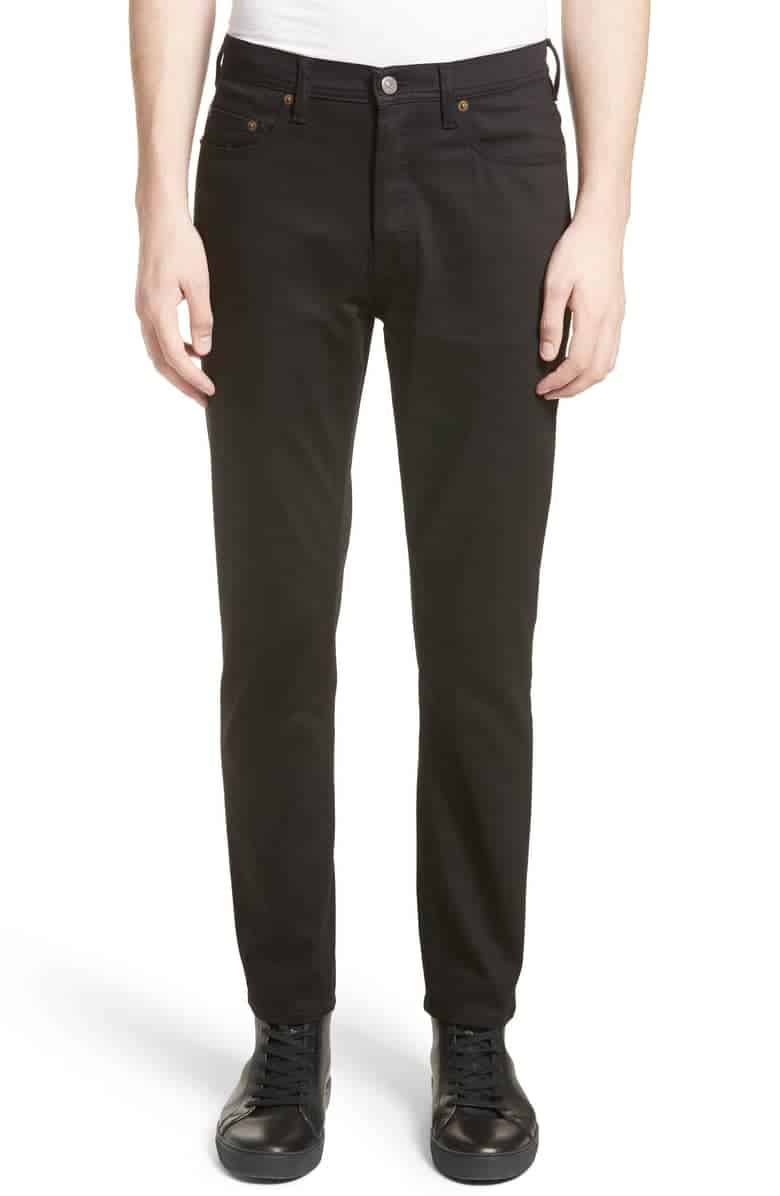 Acne Studios has given us a very modern jean that will have you looking like you just walked off a GQ shoot.
The fit of this black stretch jean starts out slim and then tapers at the ankle (it's got a 14-inch ankle opening). It's a cut that is very on trend right now, but is still timeless for you to wear long term. It has a classic button fly closure and five-pocket style, with a mid rise.
The composition of the jean is 94% cotton, 5% polyester and 1% elastane, or 98% cotton and 2% elastane. In other words, though each batch of jeans may be a slightly different make-up – you will end up with a nice, stretch pant.
This pair is the most expensive of the bunch at $250, but Acne Studios is a high quality, boutique brand founded in Stockholm in 1996. It is known for modern, conceptual minimalism, and draws inspiration from art, photography, architecture and culture (i.e. this is your art school kid jean).
This jean fits true to size and comes in two lengths for a perfect fit.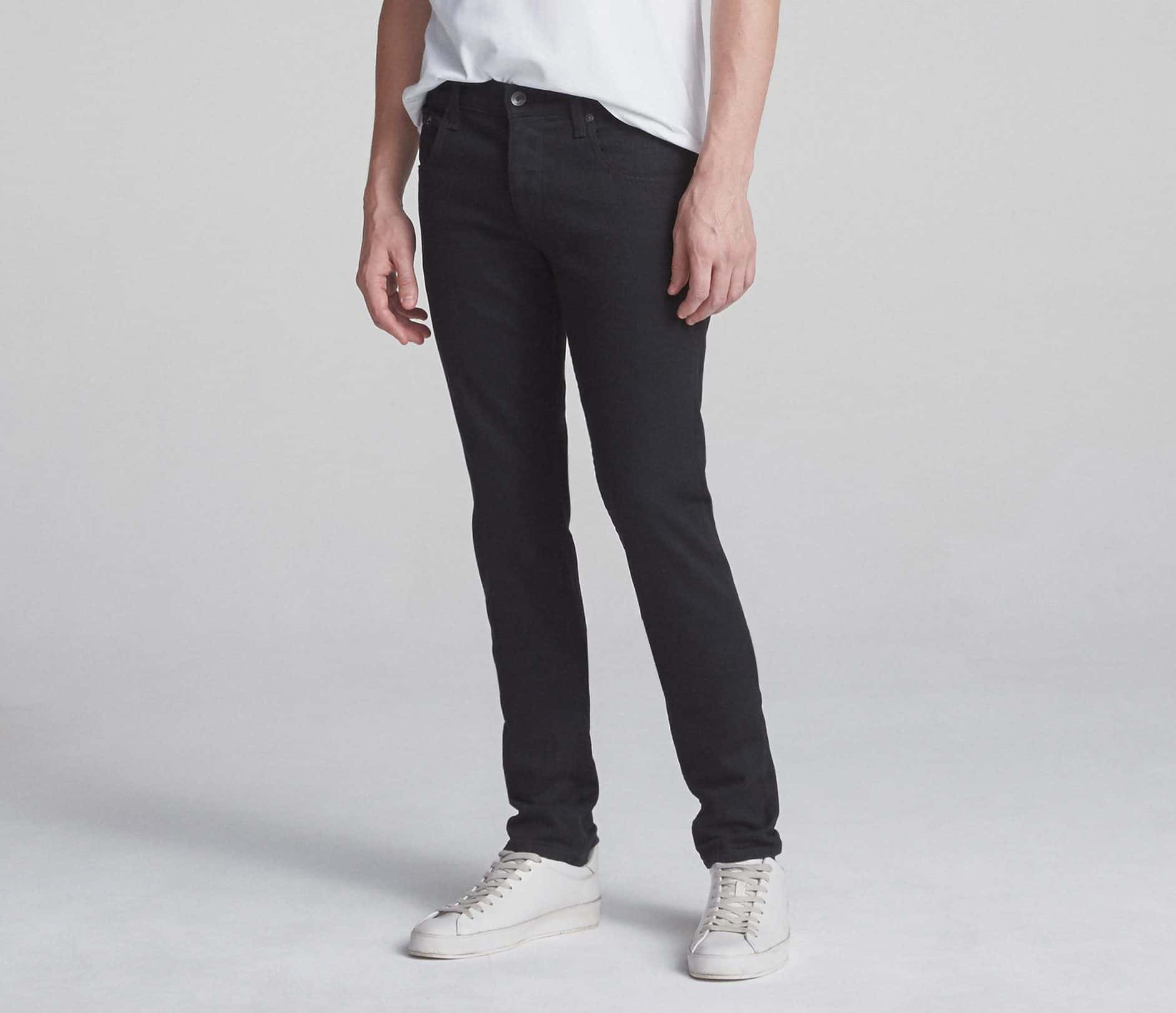 Last but not least, this stretch jean from Rag & Bone will give you the longest and leanest look out of all the pairs on this list. Made in the USA, this cotton and elastane blend jean is an ultra-skinny fit, without looking like jeans a teenager would wear to a pop punk show.
This stretch jean also has a five-pocket silhouette and a button fly for that classic look.
Though the Fit 1 comes in a variety of colors and washes, we are particularly drawn to the Devon wash. It's a slightly faded and whiskered wash for that worn-in look everybody wants in a jean, and it's got tonal stitching and silver hardware for eye-catching details.
We should note that the actual stretch composition with this jean varies depending on the wash, but don't fret – they all are comfortable. The price also varies depending on the wash (of which there are eight available at Bloomingdale's), but expect to spend between $195 and $275 on this Rag & Bone jean.
​A Buyer's Guide to Men's Stretch Jeans
​As we mentioned and as you all know, finding the perfect pair of jeans is a bit of a chore. But at least there are a ton of great brands out there for you to pick from.
If you haven't tried out the jeans we've listed above, or at the very least various styles from those brands, we seriously urge you to do so. Not only do these brands make great quality jeans, but also the prices are all very affordable.
The most important thing to keep in mind, however, is that these jeans should make you feel like your best self.
A stretch jean is definitely going to make you feel more comfortable in your body and give you a pant that won't look as worn out by the end of the day. 100% cotton denim is cool, but just adding that 1-3% of stretch in the fabric makes a big difference in fit without altering the authentic, crisp look of your denim.
When buying a stretch jean, make sure you read the labels carefully before you wash them. Improper care of stretch jeans can significantly decrease their lifespan and we certainly wouldn't want your new favorite pair of jeans to be garbage-worthy after less than a year.
Be sure to ask a sales associate or reach out to the brand's online help or customer service chats if you aren't sure how to best take care of your new jeans. A rule of thumb: less washing is more when it comes to jeans.
If you want a great guide on stretch denim before you begin your shopping excursion, we recommend checking out this page from Denimology. It gives you a nice concise summary of stretch jeans so you'll walk into a store armed and ready with stretch jean expertise.
We wish you Godspeed on your journey to find the perfect stretch jean. You can totally do it.
Keywords:  Men's Stretch Jeans