*This post may contain affiliate links. As an Amazon Associate we earn from qualifying purchases.
You may consider yourself to be a fashion expert, but how well do you know your denim?
Jeans are a must-have item for any wardrobe, and they are available in a broad range of washes and finishes.
These different shades and tones will add more variety to your attire and allow you to mix and match your jeans with other clothing items.
Stone Wash Jeans Were All the Rage in the 1980's
One of the most popular denim styles of the 80's, stone washed jeans, are making a comeback in today's fashion industry.
The look of faded and distressed denim appeals to today's youth just as much as it did to teens 30 years ago.
Stone washing jeans is a process that involves washing the denim multiple times in a chemical such as chlorine bleach. Porous or pumice stones are added to the wash to help give the material it's worn and aged look.
Although acid wash jeans were popular in the 1980's, the style originated in the 1960's.
Surfers in California would wear their jeans while hitting the waves. And this ongoing activity mixed with the salt in the ocean water caused their jeans to become naturally faded and worn. Instead of throwing out the damaged jeans, the surfers would continue to wear them, making the faded look popular.
The Many Washes and Finishes for Jeans
There are several different washes and finishes available for jeans. If you are interested in renewing your wardrobe, you should consider adding some of these fashionable styles to your denim collection.
Raw Denim
Also known as dry denim, these unwashed jeans are easy to identify by their dark blue shade and stiff material. As you can tell by the name, these jeans are unwashed, unfinished and straight from the factory. These jeans have a classic look that is timeless and will never go out of style.
Acid Wash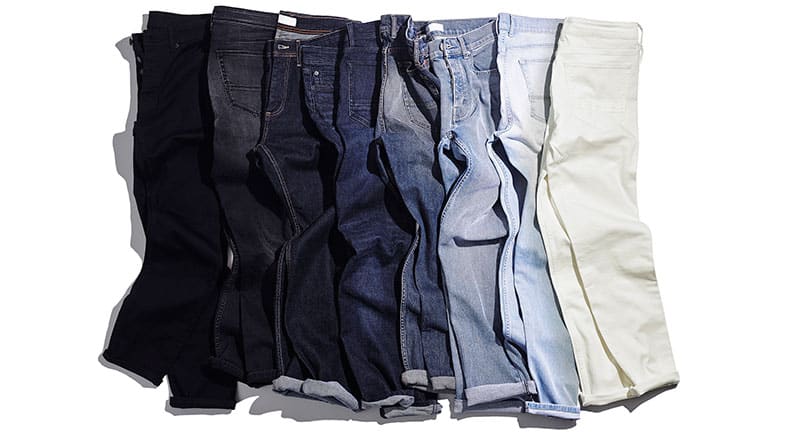 Acid wash jeans go by many names including Moon or Snow wash and Marble wash. They feature sharp contrasts in color and have a faded look due to the multiple washes in chlorine bleach or other chemicals. These jeans were most popular in the 80's but are now making a comeback.
Rinse Wash
This is the most basic wash for jeans. The main purpose is to make the material comfortable to wear. The residual dye is removed from the denim to prevent the colors from running. A rinse wash makes the jeans feel softer, yet they still have the classic, clean appearance.
Mid Wash
Mid Wash is a very popular choice for most jeans. The process involves longer washing cycles than rinse wash jeans, which helps to remove more indigo dye from the material. This creates a mid-blue color that is preferred by many people who wear denim on a regular basis. The mid-wash process also helps to guarantee that the jeans are softer when compared to raw denim jeans.
Light Wash
Light Wash jeans are light blue in color and achieve their lighter shade by going through a longer washing process than mid wash jeans. The lighter blue shade of denim is great for your spring and summer wardrobe and adds more variety to your denim. Light wash jeans for men and women are a popular choice and have a classic look that never goes out of style.
Bleach Wash
Bleach wash jeans are easy to identify because of their very light and distressed look. You can buy a pair of bleached jeans or make your own by washing an old pair with bleach multiple times. You also have the option to apply the bleach locally using a spray bottle, which allows you to place the bleach in a particular area. The process can be time-consuming and complicated, which is why many people choose to buy jeans that are already bleached.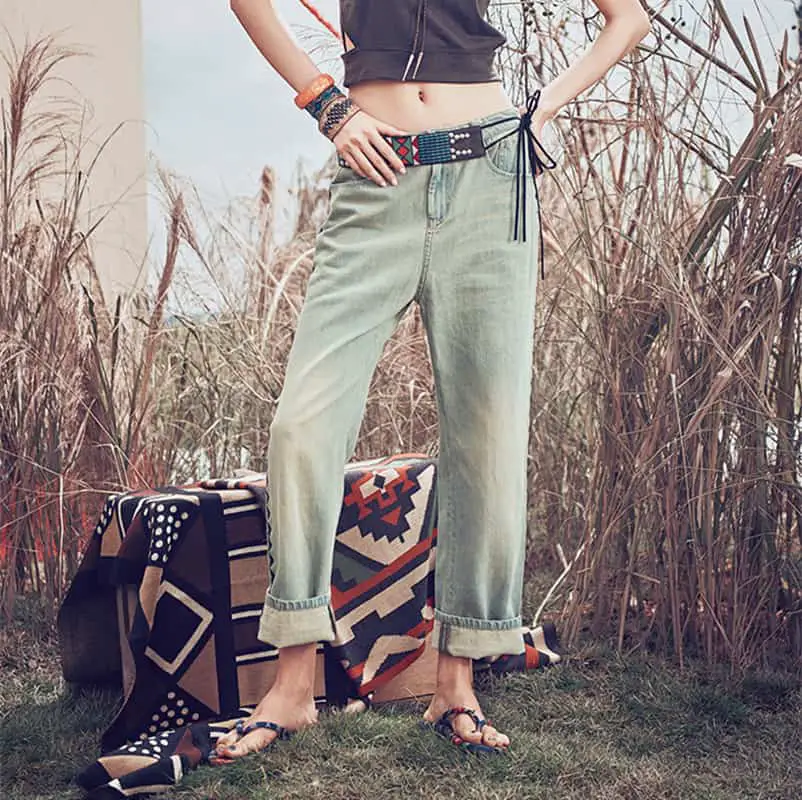 Black or Gray
Black or gray jeans are created using a dying process that is like traditional blue jeans, yet different dye colors are used. This is also the process for colored jeans such as red, purple, or green.
Coated Denim
Coated denim are jeans that have a polyurethane coating applied to them after the denim is weaved. This coating doesn't wear down after washing and it will last for the life of the jeans. Coated denim jeans are a great option for laborers such as construction workers who need clothing that is strong and durable, yet comfortable to wear.
Vintage Denim
The vintage or worn-in look is caused by multiple washing and finishing processes. The color level of the jeans is changed and may be modified to give the jeans the look of old denim. The tint can be altered and the material hand-scraped to give the jeans a vintage look, even if they were recently manufactured.
Vary Your Jeans to Achieve a Variety of Looks
There are many different types of denim aside from the classic or distressed styles. Adding multiple types of jeans to your wardrobe can help you create a variety of looks that are suitable for both work or play.