*This post may contain affiliate links. As an Amazon Associate we earn from qualifying purchases.
Top 10 Slim Fit Jean Brands for Men and Women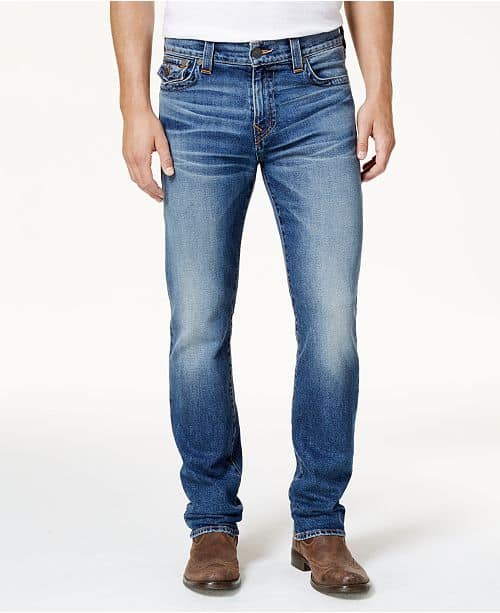 Everyone wants to be fashionable and comfortable.Jeans are one of those clothing essentials that you can spend as much as you have on them. Most of us like to keep our jean budget within reason.Then there's that pair you just got to have.You close your eyes, whip out the credit card, and let the chips fall where they may.Slim fit jeans are especially fashionable and versatile. You can dress up or down depending on the situation. Slim fitting jeans are great for work and play.Unlike "skinny jeans," slim fit jeans do allow for better movement throughout the leg.
Comparison Table
NAME

IMAGE

PRICE

1.SLIM DESTROYED STRETCH JEANS FROM EXPRESS FOR MEN

2.MEN'S CITY STREETS SLIM FIT JEANS FROM JC PENNY
3.PACSUN STACKED SKINNY LIGHT JEANS FOR MEN
4.LEVI'S 511 SLIM FiT JEANS FOR MAN
5.LEVI'S 511 SLIM FIT stretch JEANS FOR MAN
6.Women's custom ne(x) t level skinny kick jeans from american eagle
7.HIGH RISE SLIM STRAIGHT JEANS FROM GAP FOR WOMEN
8.lucky brand  sweet'n straight-leg jeans
9.women's sheri slim in super sculpting denim from nyndj apperal
10.eddie bauer women's elysian twill slim fit jeans

​
Why We Love Our Jeans
Next time you are in a crowd, look around you.
Notice what type of pants most folk are wearing.Whether you are at work, out for dinner, bar hopping with friends, a PTA meeting, waiting for standby at the airport, or even attending church in the summer, you will undoubtedly find countless people wearing jeans.
Jeans are great for just about any occasion
The versatility of denim is unparalleled in the fashion industry. Demin is trendy, comfortable, easy to maintain and comes in seemingly endless styles.Men and women, alike, are always in the market for a great, all occasion pair of jeans.
JEANS ARE NOT FUSSY
They are easy to dress up with a jacket or down with a t-shirt or casual sweater.  The best jeans effortlessly go with any sneaker, heel, or designer shoe.Our favorite pair of jeans give us confidence.
Jeans are Dependable and Easy to Maintain
Many of us have a pair of jeans that lasted longer than BFFs and some marriages. Some denim styles look better the older they get. Without a doubt, the more you wear your jeans, the more comfortable they get.
You don't have to wash jeans after every use
In fact, if you want to keep the dark dye from fading the less you wash them, the better. On the other hand, you can throw them in the wash with an old pair of shoes to get some distinguished wear and tear on the seams.
There are Endless Style and Fashion Options
Designers have taken jean styles way beyond your wide leg or boot cut choice. There are so many styles that picking out a pair of jeans is genuinely a form of self-expression.Go to any department store, and you can spend hours sorting through bell bottoms, boyfriend jeans, high-waist, slim fit, and many colors and patterns.
Versatility in the Workplace
In today's casual work environments, it is easier to get away with wearing jeans to the office – especially a nice pair of slim fit jeans. They go well with any top or shoe.Your options for accessorizing are limitless. You can quickly throw on a nice jacket for a last-minute client luncheon or after work happy hour with the boss.
Baby, Better Have Back in Denim
It's all about the butt when it comes to great fitting jeans. If you've been dedicating yourself to squats or leg presses at the gym, let your backside stand out with a pair of great fitting jeans.The first thing most women do when they try on jeans is to check out the backside view.If that awkward twist towards the changing room mirror doesn't pay off, back to the rack, the jeans go.
Rockin' Jeans are Worth It
How much do jeans cost? As much as you are willing to pay.Much of the price tag has to do with the designer label. When you throw down big bucks for a great pair of jeans that you just can't live without, unlike fads, you will get your money's worth.The difference between a $125 pair of pants and a $125 pair of jeans is night and day.Pants are not as durable or versatile. Slacks should be dry-cleaned in most cases.As we've said, as long as your favorite jeans don't repel the cat, wash them as little as you like.
A Stain Won't Wreck Your Day
So what if the drive-through attendant didn't completely wipe your cup of coffee before handing to you, or an eager sip of cabernet ends in a drop of wine on your leg.
Stains happen.
Denim can take it. Unless you are Jennifer Lopez or Jimmy Fallon hoping that Mayor Barleycorn will award your tight white jeans the "tightest in all the land," you'll live through it.
Plus, you won't need to run home and change.
10 Slim Fit Jean Brands You Need to Try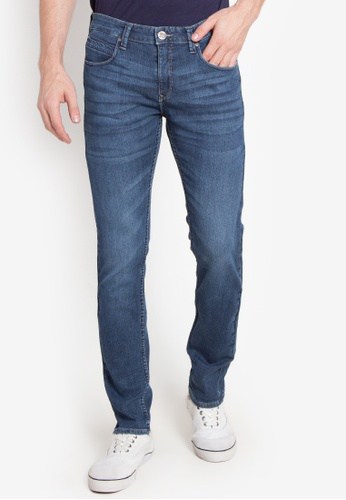 You can find slim fit jeans just about anywhere.From Target to Macy's, this favorite jean style is available online or any department store.Slim-fit jeans are defined by the snug fit through the legs.There are other names people in fashion use when referring to this particular style of pants such as drainpipes, stovepipes, tight pants, and skinnies.On the other hand, a formal characteristic of skinny jeans is that they taper entirely at the bottom of the leg and hug the leg from the thigh down.Here are some of our favorite slim fit brands for men and women to consider.
1.SLIM DESTROYED STRETCH JEANS FROM EXPRESS FOR MEN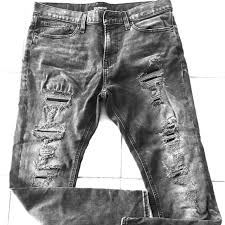 These jeans from Express are super comfortable. The distressed look offers up a cool factor. The dark color will serve any stylish young man well.They are available at Express for $$$.
2. Men's City Streets Slim Fit Jeans from JC Penny
This is a very practical pair of slim fit jeans that will go with anything. Traditional blue, dark denim jeans with a slightly relaxed fit without any distressed elements or patterns.You cannot bet the price at JC Penny for under $ a pair.
3. PacSun Stacked Skinny Light Jeans for Men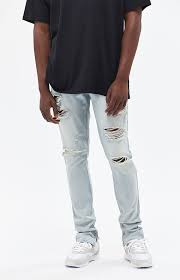 These light wash skinnies from PacSun definitely wear as comfortable as they look.  They are the perfect jeans for a simple tee and sneaker. This game-changing pair of jeans item features a traditional five-pocket design is a nice touch. The Pac Sun Active Stretch fabrication is both flexible and highly durable.Pick up a pair at PacSun for just $$. That's an excellent price for a great jean.
[amazon link="B0018OLTAC" title="4. LEVI'S 511 SLIM FIT JEANS FOR MEN" /]
[amazon box="B0018OLTAC" /]
I don't think it's a stretch to believe that when the Earth boils and nothing is left but cockroaches and these cut little microscopic hippo-looking things are left, Levi Straus will still be a strong brand.The Levi brand is synonymous with blue jeans.This offering of a modern slim fit jean with a relaxed fit is an instant classic. You have room to move with a jean that rests just below the waist.The knees are a bit worn for a lived-in look.Currently, these slim fit jeans are available on sale for $$ — marked down from $$.
[amazon link="B079SK66PW" title="5. LEVI 511 SLIM FIT STRETCH JEANS FOR MEN" /]
[amazon box="B079SK66PW"]
The Levi slim fit line for Men is just so good that we have to bring another pair to your attention. These jeans sit below the waist with a slim fit from hip to ankle. The built-in stretch means you can wear this pair of jeans all day at work and into the evening in comfort and style.  Put on your Chelsea boots, and you're ready for a date.The narrow leg style allows for endless style options, and this item comes in many colors —  dark hollow, true chino, khaki, pomegranate, the which is dead (whatever that is) and the list of color options goes on and on.The Levi Slim Fit Stretch Jeans retail for $$.
[amazon link="B079KVLN83″ title="6. WOMEN'S CUSTOM NE(X)T LEVEL SKINNY KICK JEANS FROM AMERICAN EAGLE" /]
[amazon box="B079KVLN83″ /]
What's better than customizing a pair of skinny kick jeans. American Eagle allows you to do just that. There are over 100 washes available for your custom pairs like black, indigo, and acid-washed, to name only a few.The flared leg opening gives this jean the right to walk around with a touch of sass. This skinny blue jean from American Eagle definitely has the every day "cool girl" effect.The skinny thigh, slim leg, and skinny leg opening give you a look that's both casual cool and easy to wear with heels for a going out look. The stretch lifts your butt, and the line makes your legs look longer.Wear after wear, you can rock these jeans as you mean it. No reason not to be the cool girl when a pair starts at $$.
7. High Rise Slim Straight Jeans from Gap for Women
This is a classic slim fit pair of jeans that will quickly become your go-to pair for casual wear.The "smoothing pockets" will be your flattering little secret.What nominates this particular jean from the Gap for your next favorite pair?Take a look at the design features. Gap's smart denim wash techniques have helped save 60 million liters of water while cutting down on energy use.
Premium stretch denim

Dark indigo wash with fading and whiskering

Button closure, zip fly.

Five-pocket styling

High-waist

Slim through the hip and thigh

Slim leg
Another reason you'll feel good wearing this jean is the fact that the Gap's "Smart Denim Wash Techniques" saves water. In fact, the Gap's energy saving,  environmentally conscious process has helped to save 60 million liters of waterYou get to look good and feel good, too. Priced at just $$ at the Gap.
[amazon link="B00KS47G5A" title="8. LUCKY BRAND SWEET 'N STRAIGHT-LEG JEANS" /]
[amazon box="B00KS47G5A" /]
Lucky is a brand that understands that the blue jean is an American icon. They boast their jeans are designed for free-thinkers.Whereas Levi's inspiration comes from the pioneer roots of the jean, Lucky gets much of influences from the free-spirited, laid-back nature of Southern California.If there was ever a pair of jeans made to go with your favorite top, this is it.The classic dark denim will complement any fashion accessories. Show off your favorite top, jewelry or shoes. Nice enough to wear in a casual work environment or on a weekend outing.
Waistband sits below natural waist

Slim fit through hips and thighs

Straight leg.

Button and zipper front closure

Cotton/polyester/elastane

Machine washable
On sale at Macys for 20% off at $$.
[amazon link="B071K7LJJH" title="9. WOMEN'S SHERI SLIM JEANS IN SUPER SCULPTING® DENIM FROM NYDJ APPAREL" /]
[amazon box="B071K7LJJH" /]
Sophisticated, slimming, sexy, and stylish are what terms that come to mind when seeing this elegant slim fit jean in action.  It's hard to believe that a jean could be elevated to this luxurious design.Be prepared. People are going to want to know where you got this pair of jeans.The NYDJ Sheri are expertly designed and cut for a flattering fit. If you are looking for a dressy jean that highlights your assets, you will love the Lift Tick Technology built into this jean.This jean flattens and flatters.Available color options are straw, gooseberry, black and vintage pewter.They are available online at NYDJ Apparel for $$$.
[amazon link="B077GDNJZW" title="10. EDDIE BAUER WOMEN'S ELYSIAN TWILL SLIM FIT JEANS" /]
[amazon box="B077GDNJZW" /]
If you are looking for a more relaxed, slightly curvy fit for your body, this pair of twill jeans from Eddie Bauer will serve you well.For comfort, you can't go wrong with the superior cotton that is blended with TENCEL lyocell, and spandex for a natural stretch and all-day, comfortable fit. This is another jean that could quickly become your favorite pair.The design sits just below your natural waistline and allows you a bit more room in the hip and thigh. Simply put, these are some of the best-fitting jeans around. 41% cotton, 32% modal, 21% TENCEL lyocell, 6% spandexMachine washAvailable in dark berry, fossil, dark smoke, light khaki, and dark thymeGet a pair from Eddie Bauer for $$.
You Don't Have to Be a Fashion Expert
You don't have to be a fashion expert to find a great pair of jeans.Unlike other fashion items, we may mull over and take back once we get them home and see them in a different light, you know a great pair of jeans when you put them on — they just feel right.Yes, it is so easy to shop for clothes online these days. Most online stores make returning much easier than it used to be.However, nothing beats trying on a pair of jeans in the store.Then you know.You got the right pair.