*This post may contain affiliate links. As an Amazon Associate we earn from qualifying purchases.
Jeans could very well be the most amazing type of clothing out there. And before you start to argue that fact, take a moment and think about it. Jeans are one of the very few types of clothing that have stayed popular for generations.
While the different styles of jeans may have come and gone, the basic concept has remained the same. Your favorite pair of blue jeans will go with practically anything, and if you need to dress up, you can always buy a brand-new pair of straight or skinny jeans in black or dark blue to pair with a button-up shirt.
We can all agree that jeans are pretty great. But one thing that many of us can't seem to agree on is what to do with the bottoms. Unless you pay out for a pair of custom-made designer jeans that fit just right, most of us are going to have to deal with the length of our jeans being too long. And what to do with them to prevent tripping over them.
It seems to be a very simple issue to fix, and it can be. There are actually tons of options out there that we can use to correct the issue with too much material at the bottom of our jeans. We can roll them, cuff them, or even have them tailored. But if you don't want to spend any extra cash on your jeans, you will probably end up either rolling or cuffing them.
The problem is that if you don't do it the right way, you end up with jeans looking even worse than if you had left them alone in the first place.
So here are a few helpful tips on how to correctly roll or cuff your jeans so that you will always look fashionable and stylish when you are stepping out.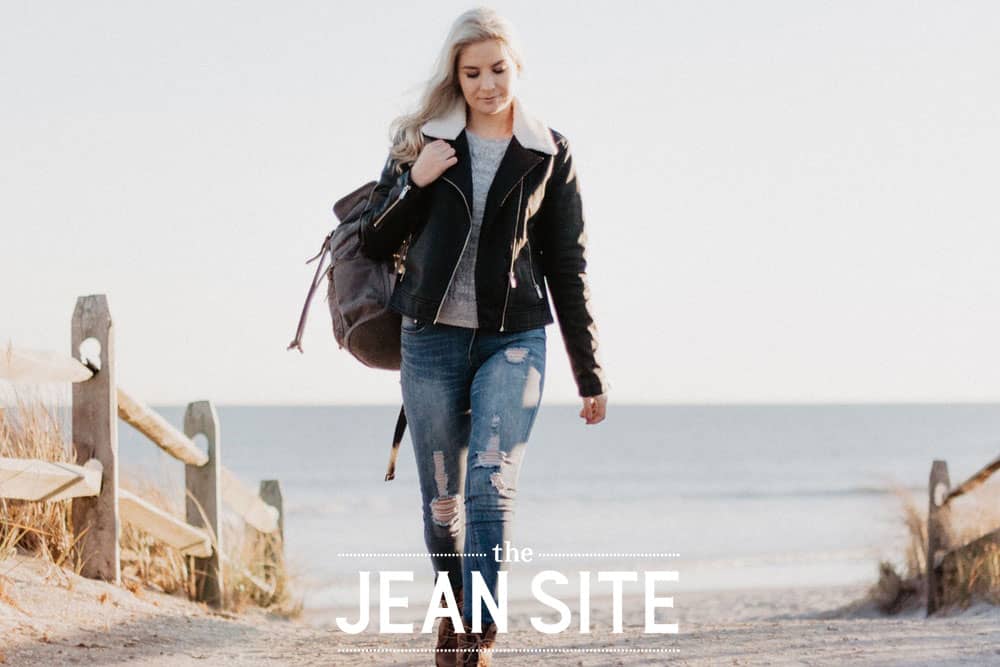 WHAT EXACTLY ARE CUFFED JEANS?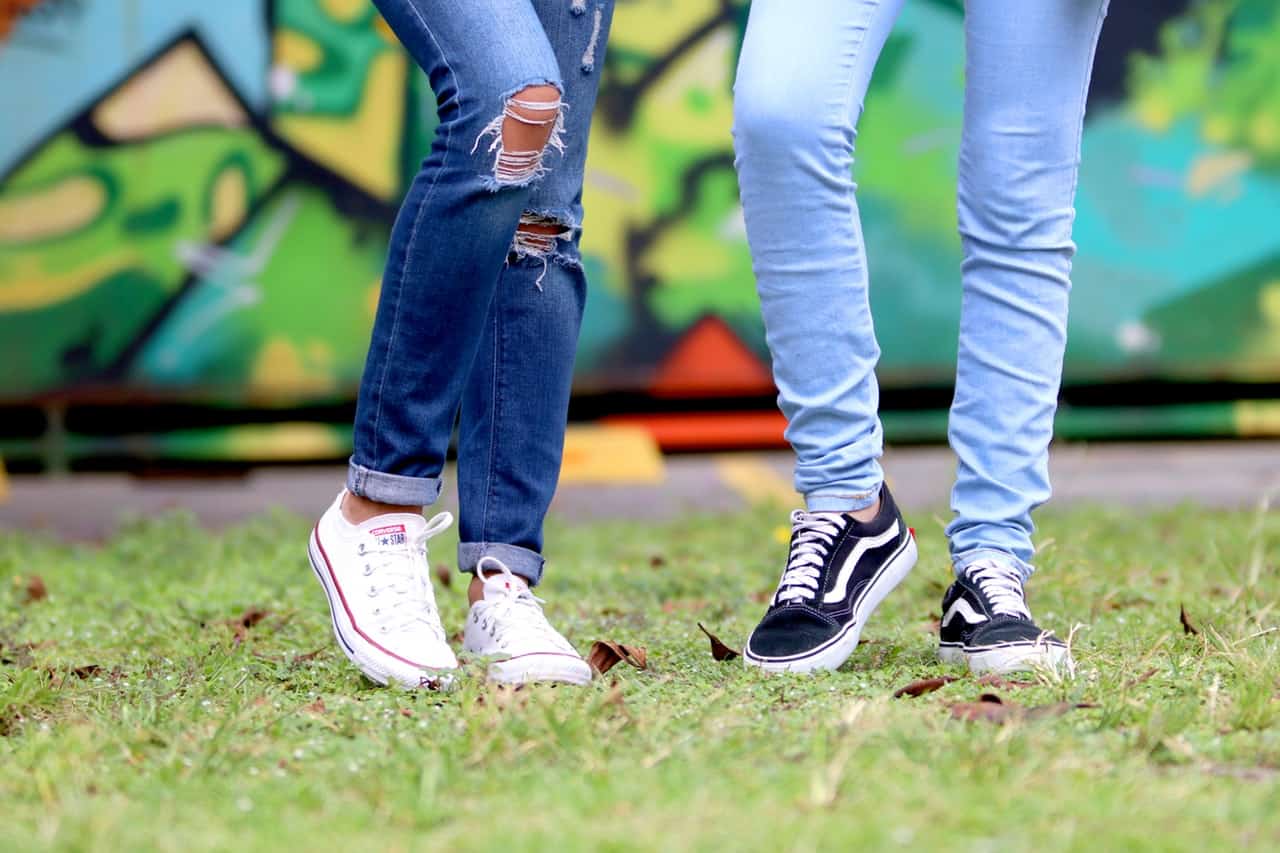 Cuffed jeans, pants cuffs, trouser turn-ups, are all the same thing. They are the bottom edges of your pants, folded outside instead of inside. When they are folded inside, they are called hems.
Anytime you buy dress pants at a department store, you will find that many of these stores will sell their pants with the cuffs unfinished. You can choose to have those hemmed or cuffed to meet your exact measurements, usually in the store that you purchased them from. If not, you will need to take them to your own tailor.
A BRIEF HISTORY OF CUFFED JEANS AND TROUSERS
Pant cuffs were invented by the son of Queen Victoria, King Edward VII during the 1890s. Supposedly he designed them to be worn during rainy weather so that his trousers wouldn't become soaked with mud and rain.
While that may or may not be true, the style of cuffed jeans carried over into the early 20th century and has been n and out of fashion ever since. Trouser cuffs were popular during the 1920s and 1930s however they seemed to have faded out during the 1940s.
Cuffs made a comeback in the 1960s yet went back into hiding during the 70's and the unforgettable bellbottom jeans. However, they did make a comeback in the 80s and now they seem to be back in fashion once again.
HOW TO ROLL OR CUFF YOUR JEANS
If you have ever wondered how to get the perfect roll or cuff at the bottom of your jeans, this is the place for you.
We will walk you through the process of getting your jeans at the perfect length so that you will never have to worry about those damaging mud puddles or escalators ever again.
THE DOUBLE ROLL
Creating a double roll for your jeans isn't very difficult at all. It looks great with practically any other type of apparel, but it looks especially good when paired with dress shoes or low-top sneakers. This is the type of cuff that most people think of when they want to cuff their jeans.
But it is essentially more of a roll. It is called a double roll because you don't need to roll your pants more than twice. If you are of average height and wear jeans that have a 34" inseam, you definitely don't want to roll them up more than twice.
The key to mastering the double roll is to go for a cuff that is 1.5". Therefore, you need to make sure that the first roll is less than 1"and that the second one is slightly bigger than that. Once you have rolled your jeans, you will need to spend a small amount of time tweaking them until you reach the right look that you are going for.
The Deep CUFF
This type of cuff is much more difficult to achieve than the double roll. So, if you are pressed for time you may want to go with the roll since this can be hard to achieve on the first try. Once you are able to master the Deep Cuff, it looks great with Work Boots and High-Top Sneakers such as Converse.
The oversized single cuff is one of the most difficult to achieve because it doesn't always look good on everyone. It is reminiscent to the old school type of workwear that we saw mechanics and factory workers wear day after day.
You have to have a rugged personality to go along with this type of style or else it really isn't going to work. This look is from a time when men would cuff their jeans out of necessity because of the type of work they were doing, not because of the latest trend in fashion.
The deep cuff looks best when paired with Red Wing boots, denim shirts, chore jackets, or military style apparel.
The Stack
The Stack is another option when you need to cuff your jeans but don't want to go with the deep cuff look. This look isn't as difficult to pull off and it looks best with running sneakers or Timberland style boots. The look may have been perceived as lazy years ago, but it is now considered a much cooler style.
Keep in mind that this looks only works with slim denim, so you don't want to try it out with flared leg jeans. You simply need to scrunch the bottoms of your jeans until they create a wrinkled or 'stacked' appearance. The right type of shoes will make all the difference with this look, so be sure to pair them with some sneakers with built-in sock style uppers to achieve the overall effect.
THE TOP 6 CUFFED JEANS BRANDS
The cuffed jeans look is here to stay, and fashion brands have taken notice of the craze. There are now cuffed jeans available that you don't have to cuff or roll yourself to help save you time and effort.
Here are some of the best options out there for men's cuffed jeans:
MOGU MEN'S 100% COTTON CUFFED JOGGER JEANS
Mogu Men's 100% Cotton Cuffed Jogger Jeans are the best choice when it comes to style and comfort.
These affordable jeans feature an elastic waist and a cuffed hem so that you no longer have to worry about rolling up your jeans yourself. The jeans have no zipper and the waistband is fully adjustable using the drawstring.
These pants are available in Dark Blue and Light Blue. They feature a stylish ripped design that goes well with any type of casual wear.
Enzo Men's Cuffed Joggers Jeans
Brand: ENZO
Fit: Cuffed Jogger Jeans
Contrast stitch detailing, 2 back pockets, 2 front pockets, 1 coin pocket
These Enzo Men's Cuffed Joggers Jeans are available in a range of colors so that you can buy more than one to complete your wardrobe. These comfortable and affordable joggers are made from 80% cotton and feature a button fly closure unlike many other joggers that have an elastic waistband.
The jeans are cuffed at the bottom so that you don't have to do anything else, just put them on and go. They feature a contrast stitch detailing design and include 2 back pockets, 2 front pockets and 1-coin pocket. These cuffed jeans are available in a range of sizes for you to choose from.
Zimego Men's Vintage Washed Drop Crotch Comfort Stretch Jogger Denim Pants
Vintage Washed Stretch Denim Jogger
Elastic cuffed bottom hem and waist with drawstrings
Drop crotch, loose through thigh, extreme tapered leg, two side pockets and two back pockets
These Men's ZImego Vintage Washed Joggers are available in three designer shades so that you will always look your best. The pants are made from stretchy denim material that moves along with you for added comfort.
The elastic cuffed bottom hem and waist with drawstring ensure that you have the right fit at all times. Features for these cuffed jeans include loose through the thigh, drop crotch, extreme tapered leg, two side pockets and two back pockets.
These jeans are machine washable, tumble dry low. They are a great, affordable option for anyone looking for a comfortable pair of cuffed jeans.
Xray Jeans Men's Cuffed Shorts
If you are looking for a great pair of cuffed denim shorts, these XRAY Jeans Men's Cuffed Shorts are a great choice. They feature a rugged and ripped style that would look great with any t-shirt. These shorts have a classic five-pocket design and zippered fly with button closure.
They are made from a soft cotton blend fabric and are machine washable. These affordable jeans from XRAY are available in a range of sizes for you to choose from. And the small cuff at the hem adds a stylish touch.
Revol Men's Twill Denim Drop Crotch Jogger Pants
WAIST SIZE GUIDE : S = 28-30 | M = 30-32 | L = 32-34 | XL = 34-36 | 2XL = 36-38 | 3XL = 38-40 | 4XL= 40-42
PLEASE NOTE: If you are a borderline size please get the smaller size. For a relaxed and loose fit, get the bigger size.
Elastic Waist with Drawstring / Elastic Cuffs/Drop Crotch Harem Jogger Pants
These Revol Men's Twill Denim Joggers are a great option when you want to add some style and versatility to your wardrobe. These stylish and comfortable pants are available in a wide range of colors so that you can mix and match them with all your favorite shirts or athletic shoes.
These affordable pants are available in sizes Small through 4XL. They feature an elastic waist and drawstring for adjusting. They have elastic cuffs at the bottom and feature a Harem style. These joggers have 2 side pockets and 2 back pockets. They are made from 97% cotton and 3% Spandex material.
Americano Men's Drop Crotch Jogger Twill Pants
Stretch denim for increased wearability
Drawstring and Elasticized waistband
Cuffed bottom with 2 side pockets and 2 back pockets
These Americano Men's Jogger Twill Pants can be a refreshing change from wearing denim all the time yet they have the look of real denim jeans. These inexpensive pants are available in a variety of colors for you to choose from and they may be purchased in sizes Small through 5XL.
The joggers are made from cotton and spandex material to ensure that they are comfortable and easy to move in. This makes these pants a great choice for playing sports, jogging or exercising. The Americano Men's joggers feature a cuffed bottom with 2 side pockets as well as two back pockets.
Comparison Table
The Benefits Of Cuffed Jeans And Trousers
There are a few benefits to wearing cuffed jeans or trousers. Here are some that you may not have thought about.
1. EXTRA FABRIC
You may not think that extra fabric is a benefit but if you ever have the hems of your trousers damaged you will have some additional fabric available to work with.
2. EXtra Weight
The added weight will help your pants to drape better and this is a great advantage when you are wearing trousers or pleated pants, because it will help them to fall into their correct shape.
3. A GREAT CASUAL STYLE
Cuffs on your pants create a great casual look that goes well with all types of attire and all types of settings. They work really well with neutral tone shirts and flannels, and they can even help make your casual styles look more professional.
WILL YOU CHOOSE PRE-CUFFED JEANS OR DO IT YOURSELF?
The main issue with cuffed jeans is that no one ever seems to know the right way to do it. But it turns out that there actually several ways that you can cuff your jeans successfully.
And now that there are also cuffed jeans available to purchase that you don't have to roll, stack or cuff on your own, you can look even better in less time.