*This post may contain affiliate links. As an Amazon Associate we earn from qualifying purchases.
Top 7 Loose Fit Jeans
Everyone wants their jeans to fit, but not all pants fit in the exact same way. Some are snug, some are tight on top and wide on bottom, and some (the ones in this guide) are loose fit.
Loose fit jeans are some of the most comfortable out there, but understanding the differences between brands and styles is no easy task. You need to get a good balance between finding the pair that feels great and the one that looks good.
There are multiple aspects to consider when finding loose fit jeans. This article will cover them all.
COMPARISON TABLE
[amazon box="B07DJ9SZNV,B0018OOF6M,B073SG4F23,B07665MCBS,B00EXOGMQU,B00MWBLWXO,B01CM6BUYY" template="table" /]
FINDING THE CORRECT LOOSE FIT JEANS FOR YOU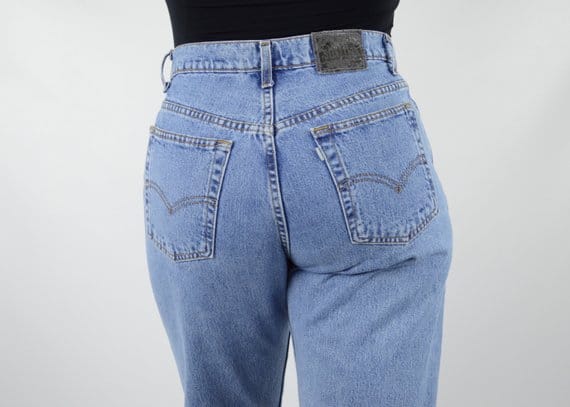 Loose fit jeans are a tricky subject, but they can go a long way once you know what you're looking for. Not only do they provide a ton of comfort, but they can also look extremely stylish.
Every pair of jeans, regardless of what kind they are, is a balance of style, looks, feel, and comfort.
Loose fit jeans are no exception to that rule.
[amazon link="B07DJ9SZNV" title="1. LEE RELAXED STRAIGHT LEG JEAN" /]
[amazon box="B07DJ9SZNV" /]
The first pair in our discussion of loose fit jeans is the Lee Relaxed Straight Leg. Available for both men and women, this jean is one of the best on the market because of how incredibly clean they are.
To keep up with current trends, many companies go out of their way to pack in new features or a ton of add-ons to their jeans. That can work sometimes, but you don't always need the extra stuff.
The Relaxed Straight Leg is a perfect example of that simplicity because it takes no such steps. Rather, it provides you with a basic jean that looks great and keeps you comfortable throughout your day.
There is no flare or taper from the knee to the hem here. The leg opening is 17-inches, there are a button closure and zipper fly, and the pair comes with the classic five-pocket styling.
Those traits keep everything sleek and simple without sacrificing appearance.
Another large bonus of this product is that it is available in 23 different colors.
It is always great to have options, and Lee Men's Relaxed Straight Leg gives you more than you could ever possibly imagine. Rather than providing you with just the basics, you get access to a range of different colors that help you perfectly match the jeans to your individual style.
This is not something everyone will take advantage of, but it is a more than welcome feature to have should you want or need it.
[amazon link="B0018OOF6M" title="2. LEVI MEN'S 560 CONSOLATION-FIT JEAN" /]
[amazon box="B0018OOF6M" /]
One of the male-targeted jeans on this list, the Levi 560 Consolation-Fit is a comfortable pair that comes complete with a few extra features to keep you looking and feeling good regardless of what lifestyle you live.
Loose fit jeans are made to adapt to you, and this pair excels in that regard.
Not only are these 100 percent cotton (an addition to their comfort) but they also provide you with non-stretch denim.
In addition to that, they have many different useful features that keep you looking good. That includes button closure, five-pocket styling, and a slightly tapered leg. There is also a zip fly with a button, which many people enjoy to have in their jeans.
These imported pants do a good job of giving you a classic look and feel while providing you with many upgrades and important features.
There is also arcuate stitching at the back pockets, and the pants are completely machine washable. It is hard to find loose fit jeans with so many extra bonuses.
You not only get extra room in both the butt and thigh areas, but you also get a slight taper than lends itself to a slimmer appearance. That solves one of the biggest concerns with loose fit jeans, the fact that they may look too baggy or loose in a sleek and elegant way.
These provide you with strong comfort and reliability that is hard to find.
[amazon link="B073SG4F23″ title="3. AE FLEX LOOSE JEAN" /]
[amazon box="B073SG4F23″ /]
Another great example of loose fit jeans done right is the AE Flex Loose Jean. This pair, like with the above examples, provides you with a relaxed, laid-back fit on top of durable materials and excellent extras.
There are many reasons to choose every pair on this list, and the biggest pull for the AE Flex Loose Jean is the feel.
Comfort, as mentioned, is at the forefront of loose fit jeans. However, it is not always easy for companies to hit that mark. You do not have to worry about that with AE.
These jeans are some of the most comfortable you will ever wear for two distinct reasons. One, they have a high stretch level that keeps its shape over time. That adds to the durability and ensures the pair won't become worn out with extended use like other brands.
Beyond that, the 98 percent cotton, 2 percent elastane pants also move with your body. That means you never have to worry about them feeling too tight or sticking too close to your skin. With AE, you move normally and the pants will follow.
The pants also have an interior cell phone pocket (a handy upgrade) and they are dyed for a one-of-a-kind color that further ensures a mix of softness and comfort.
Everything about these loose fit jeans makes them slide on with no issues.
[amazon link="B07665MCBS" title="4. DEGREE 7 RELAXED BOOTCUT DENIMS" /]
[amazon box="B07665MCBS" /]
Though the above options focus on the jeans themselves, there are other aspects that can take a normal pair of loose fit jeans and elevate them to the next level.
That is fully on display with the Degree 7 relaxed bootcut Denims, which are some of the best loose fit options out there.
The reason these stand out is that they come with special whiskering (a term that refers to the strains and streaks on jeans that give them a worn or "lived in" quality) that is incredibly natural. As soon as you buy these it will appear as if you've had them for years.
That is a fantastic quality because it works on two different levels. The first is that the jeans look and feel amazing right away. You do not have to waste time breaking them in, nor do you need to worry about them appearing stiff.
In addition, the whiskering gives them a stylish look that other similar jeans do not have. The white stitching that runs throughout the denim is easy to notice, especially at the bottom, and it looks great.
Of course, as these are loose fit jeans, they are not just about appearance.
This pair has a 19-inch leg opening, and they are relaxed throughout the entire leg. You'll never have to worry about them bunching up or getting too tight in areas where you need them to be loose.
Loose fit jeans have a fine line to walk. They need to look good, but they have to feel great as well.
Degree 7 balances that perfectly.
[amazon link="B00EXOGMQU" title="5. 7 FOR ALL MANKIND AUSTYN RELAXED STRAIGHT-LEG DENIMS" /]
[amazon box="B00EXOGMQU" /]
Coming in at number five is another well-known brand in 7 for All Mankind. While they make a wide range of different jeans, if you want loose fit jeans, you have no better option than the Austyn Relaxed Straight-Leg Denims.
These pants come with many of the quality features seen in the above models. That is, you get zipper closure, five-pocket styling, and a zip fly with button closure.
However, 7 for All Mankind is a company that goes far and beyond those simple-yet-important traits.
These jeans are completely focused on comfort. They are 98 percent cotton and 2 percent spandex, giving them a perfect blend of comfort and stretchiness.
They also are a straight leg jean with a relaxed fit throughout the different sections.
They have a 17.5 percent non-tapered leg opening, and they are much roomier throughout. That gives you relaxed comfort across the hip, butt, and thigh areas.
That is perhaps the most important aspect of this pair because it means you'll never have to worry about them being too tight. However, that extra spandex mixed in with the cotton also makes it so that the jeans will never get too loose either.
These pants are tough-but-stretchy in a way that makes them feel comfortable instantly. Breaking them in is a breeze.
Though they are definitely one of the pricier brands on the list, 7 for All Mankind makes good jeans that last a long time. The Austyn Relaxed Straight-Leg is a perfect example of that quality in action.
[amazon link="B00MWBLWXO" title="6. DSQUARED2 BIG BROTHER JEANS" /]
[amazon box="B00MWBLWXO" /]
The next jean option on this list comes from Dsquared2. The Big Brother Jeans are some of their best loose fit options the company offers simply because of their inherent versatility.
Jeans need to be comfortable and stylish, but they have to be functional as well. That is something many brands overlook, but it is not the case here.
This pair is great in your everyday life, but it can work great for semi-formal occasions as well.
That alone makes them worth a purchase because you don't need to worry about switching between pairs all of the time. These look great in a way where people will take notice, regardless of where you are or what you're doing.
In addition, as they can be worn on so many occasions, they also match most common clothing items. The ability to go with a range of shirts, styles, and outfits is something all jean brands try to achieve, but few do.
Dsquared2 is largely the exception to that rule, giving you a great pair that you can mold to whatever you feel like wearing.
The bottoms even fold up, allowing you to show off your favorite shoes if you so wish. Just another example of what these jeans do right.
[amazon link="B01CM6BUYY" title="7. SILVER DENIMS CO. ZAC RELAXED FIT STRAIGHT LEG DENIMS" /]
[amazon box="B01CM6BUYY" /]
Our final pair of pants in our discussion of the best loose fit jeans are the Silver Denims Co. Zac Relaxed Fit Straight Leg Denims.
These jeans are made with handcrafted denim, providing them with a quality that few other companies can match. Though all of the above loose fits have their strengths and weaknesses, these Silver Denims come with an extremely broad range of features.
Not only do they handcraft their denim, but that process makes the 99 percent cotton, 1 percent elastane jeans extremely soft, mobile, and stretchy at the same time.
There is zipper closure on top of straight leg and a relaxed fit all the way through.
To give it a more complete look, the pair also has a medium rise so that the pants sit a little bit below the waist. That is an aesthetic feature that truly expands the ways the pants can be worn.
These jeans are some of the most casual loose fits in this guide. The Zac is all about relaxation to the point of maximum comfort. The fit may not be something you're used to, but it works wonders and is something you'll adapt to in no time at all.
In addition, the denim shade has a great worn-in look, the fabric comes with a choice bit of extra stretch, and the signature S-scroll stitching is apparent across the back pockets.
That mix makes these jeans perfect for anyone looking to get a lot of extra use from their pants.
STYLISH, ADVANCED, AND MOST DEFINITELY RELAXED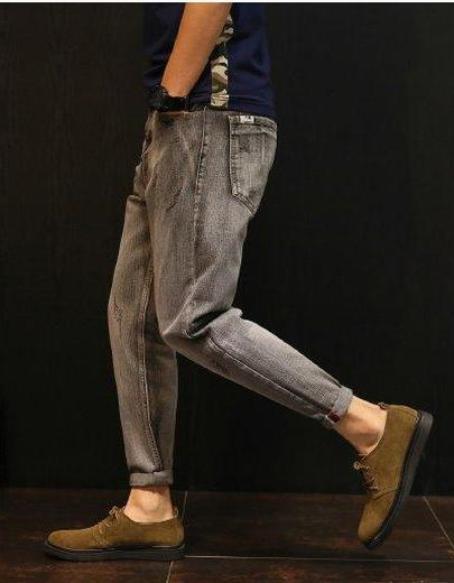 Loose fit jeans are some of the best pants on the market because of the way they manage to blend comfort, style, and fashion.
However, as the above guide shows, every pair and every company is different. Searching for the perfect pants is not an easy battle, but it is a doable one as long as you do your research and come prepared.
While everyone has their own preferences, choosing any of the above seven options will provide you with pants you'll enjoy for years to come.