*This post may contain affiliate links. As an Amazon Associate we earn from qualifying purchases.
THE TOP 5 BEST WHITE SKINNY JEANS TO BUY IN 2018
Think bold, brave and daring. Or at least that's what pops up in my mind when I see women and men rocking that bright clean white denim. Kanye West is actually one of the most famous celebrities to rock this style, always looking bright and slick in his nice white jeans.
I feel like there is an abundance of rules and regulations regarding white jeans, with silly sentiments such as "you can only wear white jeans before Memorial Day and after Labor Day".
Some of the most stylish celebrities and inspirational figures in our society can be seen rocking the white all year-round.  
White Jeans have been badass since the day they were created, as they were born out of rebellion. Back in the 50s and 60s most of the schools prohibited their students from wearing blue jeans. Thus, to outsmart the system, students found a clever way around the strict ban by bleaching their jeans a bright white.
| PRODUCT | IMAGE | RATING | PRICE |
| --- | --- | --- | --- |
| Madewell 9" High Rise Skinny Jeans in Pure White | | | |
| J CREW LOOKOUT HIGH RISE TOOTHPICK WHITE JEANS | | | |
| OLD NAVY MID-RISE CLEAN SLATE SKINNY JEANS | | | |
| GAP MID RIDE TRUE SKINNY JEANS | | | |
| J BRAND 9326 LOW RISE CROP SKINNY JEANS IN DEMENTED | [amazon fields="B01MXJ2JNY" value="thumb" ] | | [amazon fields="B01MXJ2JNY" value="button" ] |
HOW WE CHOSE OUR RATINGS
These white denim options have all been personally rated by me, myself and I. With that being said, I claim to be no fashion expert or miracle white denim guru.
The white denim pants listed below all personally stood out to me for a myriad of different reasons. No single pair of pants is necessarily better than the other as I have included a wide-range of pant-types, styles and pricing so that you can decide which option will be the perfect fit for you. You can't really go wrong with any of these options, as each pair of white jeans is equally different, beautiful and capable of turning even the snarkiest of white-jean haters into the most loyal of fans.
TOP 5 BEST WHITE SKINNY JEANS
The amount of white denim jeans out there is innumerable and there's absolutely no way that I could even begin to list half of the sites where you could find them.
Instead, I'll show you a few of my favorites (and most stylish for 2019), as each one differently embodies the beauty and elegance of a solid white pair of jeans.
1. MADEWELL 9" HIGH RISE SKINNY JEANS IN PURE WHITE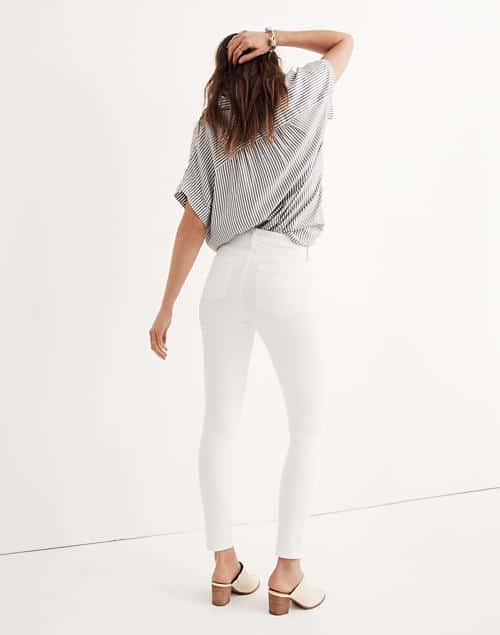 Image Source : madewell
This elegant pair of white jeans will create the illusion of having lean legs for days. These jeans are secured with an extra layer of hold-you-in tightening fabric in the front and super awesome Magic Pockets in the back so that there is no possibility of the pants being see-through. The white jeans sit above the hit in a flattering position and they are fitted nicely all the way through the hip, butt and thighs with a skinny leg.
2. J CREW LOOKOUT HIGH RISE TOOTHPICK WHITE JEANS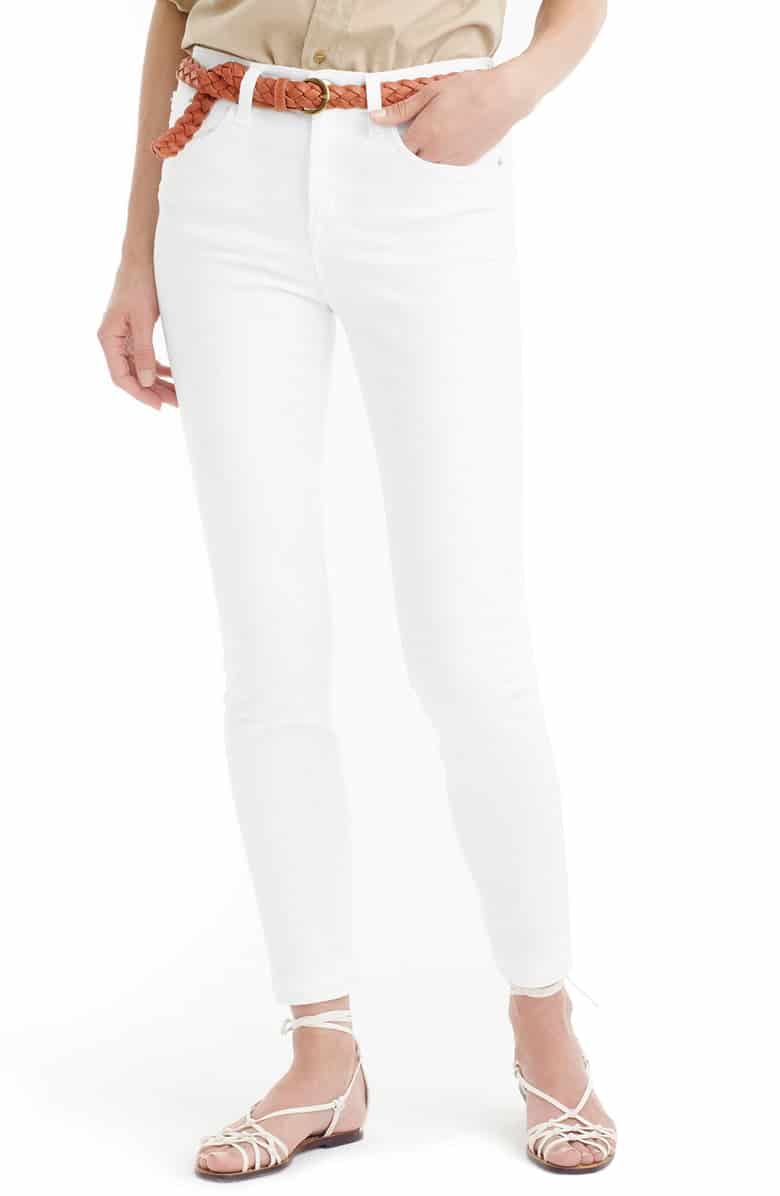 Image Source : shop.nordstrom
These jeans are an awesome addition to anyone's closet as the material feels very nice, the pants are sturdy and with this comfortable fabric no one ever has to worry about wearing see-through pants again!
These jeans are manufactured and made in the USA and contain both amazing stretch and recovery. They have a nipped waste and toothpick style pant-leg that gives wearers the illusion of having legs for days. These awesome white denim jeans will help to hold you in, nice in tight in all the places you wish for some extra help in.
3. OLD NAVY MID-RISE CLEAN SLATE SKINNY JEANS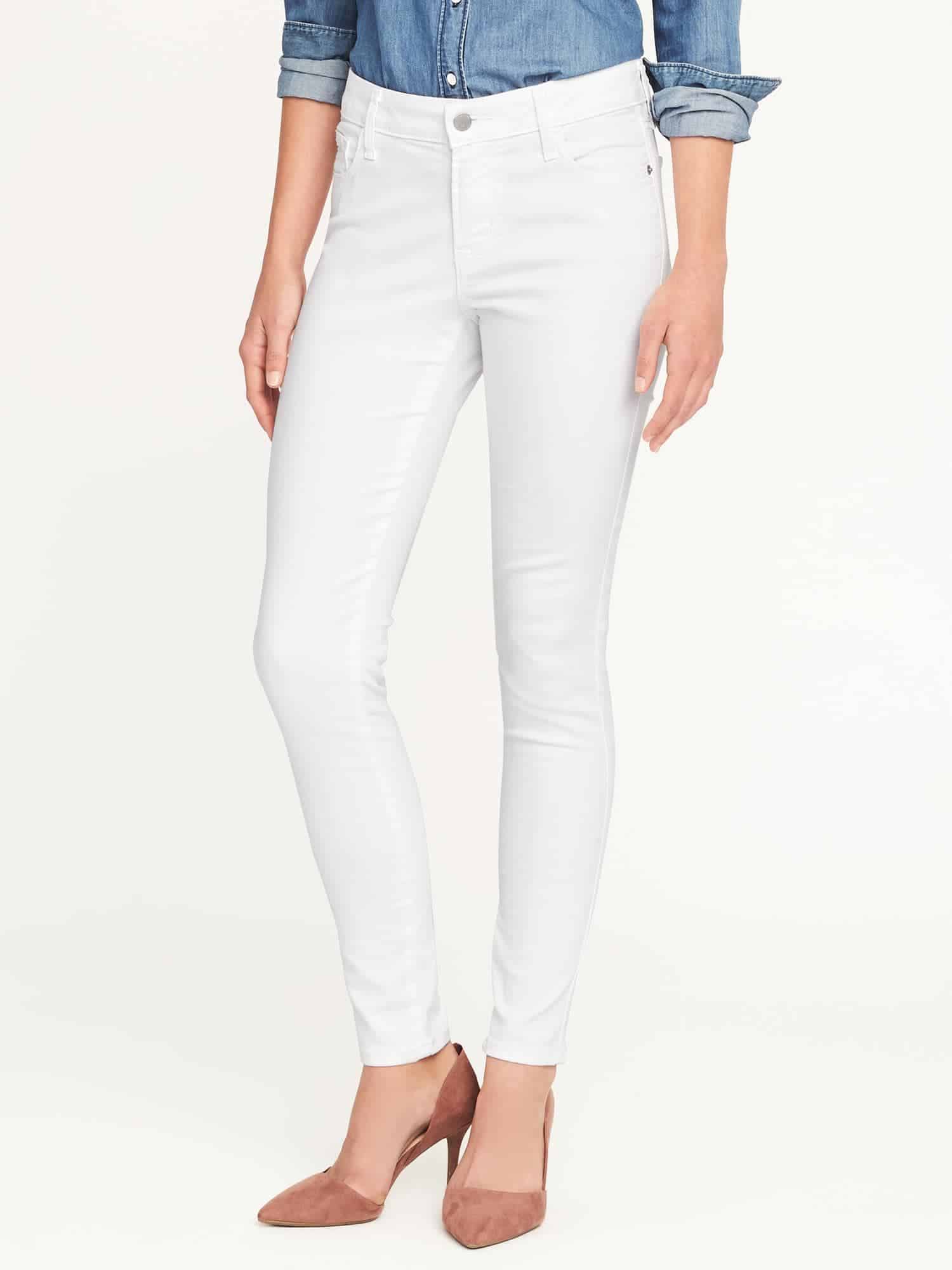 Image Source : oldnavy.gap
Dang, these affordable jeans make for both a happy wallet and a happy shopper. These white jeans are beyond flattering, as they feature a mid-rise design that sits comfortably just below the waist. The fit will be snug all the way down the hips and thighs, helping to accentuate all your lovely lady lumps and bumps.
Old Navy offers these jeans in both regular and long and one really can't beat either the price or look of these bootylicious white jeans.
4. GAP MID RIDE TRUE SKINNY JEANS
Image Source : gap
This popular bright white jean is mid-rise and has a slim hole throughout the hip and thigh area to help keep everything put in place. The end of the jean hits at the ankle and this premium white dyed wash stretch denim is an awesomely comfortable white denim option. This brand is known and loved by many and I personally have quite a few well-worn and loved on Gap jeans in my closet.
[amazon box="B01MXJ2JNY" /]
The focus of these white skinny jeans is to not only produce well-made jeans, but also creating a simply amazing design. There is a zero back-pocket design, no embellishments and no holes or tearing. J Brand has attempted to keep a classically sophisticated look as the white denim of this product is both classy and sleek.
This pair of jeans is actually a favorite among petite bloggers, as the low-rise skinny cropped fit
Each of the pairs of these white denim jeans are absolutely breathtaking. Any woman would be lucky to wear any one of them, as I can tell that each is made of quality materials.
As mentioned before, these are absolutely not the only places to stylish white denim jeans. However, these are some of the best brands, styles and sites that I was able to find. Each pair on this list looks both reputable, credible, affordable and stylish.
So take a look my lovelies, see what you like and don't worry my feelings won't be hurt. This guide is here to help you choose the perfect option that uniquely suits your white jeans apparel needs.   
BUYERS GUIDE: HOW TO PICK THE PERFECT WHITE JEANS
When looking for the perfect white denim jeans to purchase there are a few things that need to be taken into consideration before making that big decision.
Silhouette​There are multiple different silhouettes to choose between for when you're looking for those new white jeans. It's all about finding the right fit, that flatters your body just the way it is. One thing to keep in mind, is that unlike regular jeans there is no ability for strategic fading and whiskering that help to give off illusory slimming effects.
My suggestion is to go with a white jean that provides more of a slim-legged option, where the booty and hips are fitted and less tight in the thighs providing a slimming look. Boyfriend and straight leg jeans are especially popular right now. The least flattering sillouttee of all the jean options is going to be the fitted, high-waisted, skinny style white jeans. They are tight and bright, and definitely don't keep anything out of site.Fabric
Do you like your jeans softer or more selvedge-like and stiffer. There are multiple different fabrics to keep in mind when choosing that perfect pair of white denim, as each one of the above give off a slightly different overall look.
Make sure to realize that with white there isn't much room to hide your pride. Thinner and more stretchy fabrics put your goods on display for everyone, which is fine if that's what you're going for. However, I myself don't want to put myself in a FUPA situation, so I would stick with a thicker denim for your white jeans. Always buy thicker than you think you will need, because you really don't want that red lacy underwear to be on display all day when you are out and about running errands in your new fabulous jeans.Size
I feel like we as women are too caught up with what size we are. Constantly trying to fit and squeeze ourselves into the smallest size possible. But for the love of goodness please don't follow this rule when going shopping for white jeans. White is always going to be one of the less forgiving colors, so do yourself a favor and size up on those new pair of denims.
Not to fret, we've got options for every type of bust. There's halter, high neck, Queen Ann, plunging, Bateau neckline, off shoulder, sweetheart and V-neckline. Through trial and error (sorry I can't do this one for you) you'll be able to find the perfect place-holder for your little ladies.Length
The needed length of your jeans very drastically depends on the event of the day. If it's a hot summer day and you want to join your ladies for brunch, I would suggest some white denim jeans with a cut off length at the ankles. They will be perfect to show off the pop of summer color on your toes and you won't have to worry about them dragging on the ground. And if you do purchase jeans that are too long and don't want to ruin them getting them dirty then just cut them. Raw hems are a hugely popular growing trend, so don't be afraid and go grab those scissors!
As you can see, the detailing behind choosing that perfect pair of new white jeans is a little more intimidating than most want to admit. However, each item listed above are all things that should be taken into consideration when picking your one new favorite wardrobe piece.
BRIGHTEN EVERYONE'S DAY IN WHITE DENIM
Image Source : pixabay
So as you can see, white jeans are for every time of the year!
I hope this guide has helped you to realize the versatility of having a pair of white jeans in your closet. These pants will become a necessity for both your normal and party lifestyles. From creating super chic and appropriate going to church outfits to looking drop dead gorgeous when going out with your gals, these jeans will have your back (and butt) the entire time.
You can either dress them up or dress them down, white denim jeans are perfect for walking all around the town.
If any of these trendy white jeans styles have you in love and itching to go shopping just like us, let us know!  We'd love to hear from you!