*This post may contain affiliate links. As an Amazon Associate we earn from qualifying purchases.
The history of raw denim jeans is interesting and rich, but so is how the denim made. There's a whole process that's missing from today's manufacturing of jeans.
It's amazing to think about how the evolution of denim happened right in our backyard. Though selvedge denim is not the end all be all, there are good and bad aspects like anything else.
The History of Old School Selvedge Fabric
The term selvedge is talking about how the seams are made. They're made in the old school style of using a shuttle loom. It gives a more authentic feeling to some people.
Before the 1950s, most fabrics were made on shuttle looms, this includes denim. The loom makes tightly woven strips of heavy fabric. The edges of the fabric are finished with tight bands running down all sides to prevent fraying. Because of how the edges are finished they are referred as having a "self edge" and that's how the term came about.
During the 1950s, the demand for denim went up and companies were looking to reduce costs. So, they started to use projectile looms, which make wide swaths of fabric and more fabric overall. Plus, they are much cheaper than shuttle looms. The edges of fabric that were created from the projectile loom weren't finished leaving a fraying edge and could end up unraveling.
This doesn't mean the fabric itself is less than those made of shuttle loom, it's truly all about the edges.
Because a large population of people are missing the old school jeans, selvedge denim is making a comeback. There are a lot of small companies creating them or people are searching flea markets for the original old denim. Even Japan has joined the selvedge game; they seem to love anything after WWII Americana.
4 Pros of Selvedge Denim
1. They're Durable
Because of the selvedge and the weight of the denim, the jeans can last a long time. They can last anywhere from a year to a decade.
2. Better Value
While they are pricy up front, they can last a long time. So if you use the cost-per-use thought process you can see it more as a value buy than an expensive one.
3. They are Made in the USA
Most of the time, these type of jeans are made in the USA, so you can buy locally.
4. They Look Great and Are Personalized
These jeans look great with anything. You can look sharp with just a t shirt and a pair of these jeans or you can dress them up with a bottom down shirt.
Plus, these panta and will get cresses in places depending on what you do in them. Each mark becomes part of your story.
4 Cons of Selvedge Denim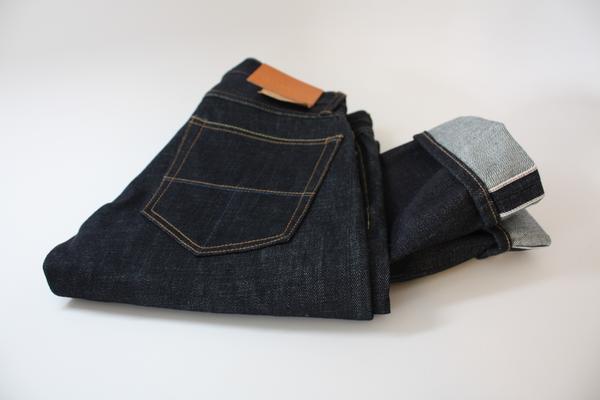 1. They're Pricey
Selvedge and raw denim are expensive. They can range from the lower end of 50 dollars to 300 dollars. You can get different kinds from other countries, but they are also expensive around 200 dollars. If you want USA authentic jeans, it will be at least 90 to 120 dollars.
These high prices don't necessarily mean good quality either, so you have to be careful.
2. They Take a While to Break In.
Unlike most jeans you find in stores that are already soft, when you put selvedge jeans for the first time they will be stiff. Depending on the weight it can feel like you can't even bend your knees.
It'll take a few wears to get them to soften up.
3. Sizing Could Be Difficult.
Most commercial jeans don't have the same size as selvedge jeans, so you have to start from scratch.
You will have measure yourself, meaning your waist, rise, hips, thigh, ankles, your inseam and your outseam to find the right size. It can also be hard if your body is different from the "norm" of skinny legged people.
4. The Dye Can Rub Off
Because these jeans haven't been prewashed there's still a lot of dye in the fabric. This can rub off on everything. Seats, shoes, and even your skin. After a few weeks of wearing and washing it should stop bleeding.
Be careful washing these jeans because the dye will get everywhere, so it should be the only piece of clothing you are washing.
Final Thoughts On Selvedge Denim
Selvedge jeans can be a great addition to your wardrobe.
While costly, they can last a while and will be customized to your life. Ultimately you will have to decide if these are the right jeans for you. Are you willing to pay a higher price? Wait until you can break them in for them to get soft?
If you are and you want an authentic feeling of old America, then these pants are for you.