*This post may contain affiliate links. As an Amazon Associate we earn from qualifying purchases.
Some styles come and go.
Then there are timeless classics that are in vogue for decades. While the look itself might adapt and grow, the brand stays the same.
Buying jeans made by a trusted brand will guarantee quality.
Let's take a look at one of America's most trusted jeans brands and why you should own a pair.
A Brief History of Wrangler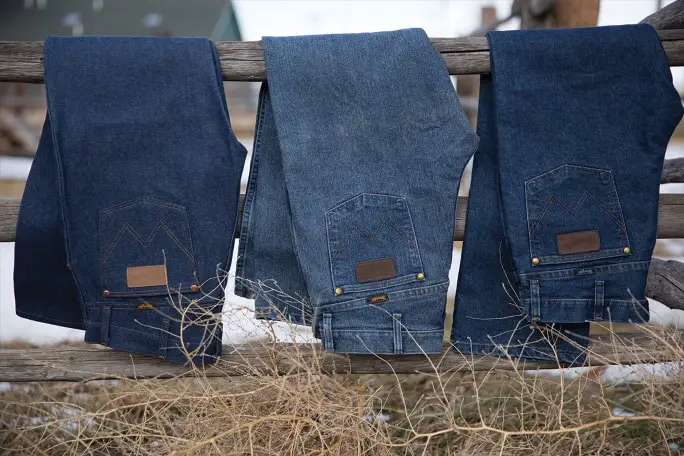 Like Levi's, Wrangler has a long history in the jeans and clothing industry. They have been manufacturing high-quality men's and women's wear for over one hundred years now.
Wikipedia explains that Wrangler was founded in 1904 by Mr. C.C. Hudson who first named it the Hudson Overall Company.
The term "Wrangler Jeans" was first coined, however, in 1940. This was when the Blue Bell Overall Company took over the business. They worked closely with particular customers including cowboys. There was a niche here as they needed jeans that would be suitable to wear at the rodeo.
This famous brand of jeans got its name from a competition. Blue Bell decided to run a contest to see if they could get a member of the public to come up with the right name. Wrangler ended up being the favorite among the judges.
Wrangler is an appropriate name for this brand of jeans because of its connection with cowboys. It is the colloquial term used for a working cowboy.
In 1962, Wrangler expanded its brand overseas and opened a factory in Belgium. It wasn't until 1973, however, that the Wrangler brand became so closely associated with fashion found in the youth culture.
Ever since then, it's remained a firm staple in the fashion world of the younger generation.
The Best Wrangler Jeans for Women
Now that you know a little bit about the history of the Wrangler brand and where it originated from let's take a look at the best Wrangler jeans for women.
Since starting out as a brand that primarily accommodated for cowboy clothing, Wrangler has expanded its horizons to cater to both men and women. While you can still purchase the original Wrangler jeans, additionally there is a wide variety of different styles to choose from.
Wrangler has a great pair of women's retro wide leg jean. This type of jean is similar to a bootcut. The bootcut style is where the jeans taper at the knee and become wider. This type of jean is ideal if you're going to wear boots – they will fit snugly underneath.
Wrangler has many different types of jeans available for women. These range from skinny legging jeans and ultimate riding jeans to a retro mae jean and rigid straight selvedge jean.
Wrangler has also incorporated a variety of colors and materials to use in the manufacturing of jeans in recent years. While they still carry their classic denim styles, they sell jeans from acid-wash to white and even black.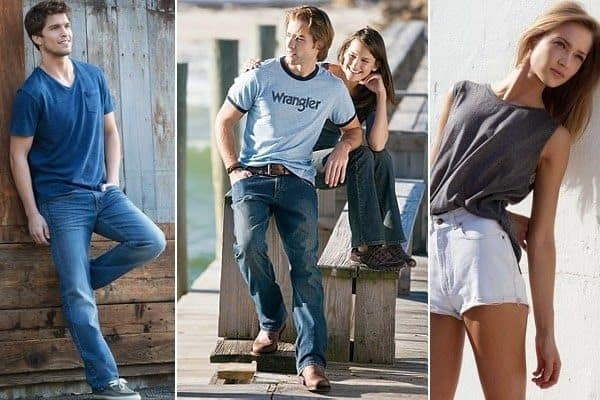 Great Pairs of Wrangler Pants for Men
Wrangler started out with cowboys in mind, who were men. This means that Wrangler has been a trusted brand for men's jeans and pants for over a century. Let's take a look at some great pairs of Wrangler pants for Men.
Despite the fact that there aren't nearly as many cowboys working today as there were all those years ago, the cowboy style is still popular with Wrangler.
Men can get the cowboy cut original fit jean that closely emulates the original style that was first made for rodeos.
If you're not looking for the cowboy style of jeans, there are plenty of other options to choose from. Wrangler makes a retro slim fit bootcut style for men who like to be comfortable, and snug yet needs the leg to taper over boots and other shoes.
The alternative to a slim fit is the straight leg option, where the width of your jeans is the same from the top of the thigh all the way down to the hem at the ankle.
Wrangler men's jeans also come in a variety of tones and colors so you can choose the shade that's most appealing to you. From light blue to grey and even black, there is a pair of jeans in your favorite color.
Owning the Best Pair of Wranglers
There's a reason Wrangler has held an enviable place on the list of great jean brands for so long. With over a century's worth of experience making jeans, it's no wonder that they are still a hit today.
With Wrangler, you get the versatility of finding the style you like paired with quality that you'll love.