*This post may contain affiliate links. As an Amazon Associate we earn from qualifying purchases.
Fall and winter can be challenging seasons to dress for. It's chillier outside, so you might feel tempted to simply wear a huge jacket or sweater to cover everything up and call it a day.
But what about your bottoms? Denim can be a cold fabric, leggings aren't really warm either, and who feels comfortable in leather pants? Not us.
The answer to your prayers of staying warm yet fashionable is corduroy. Corduroy is a perfect fabric to wear during the fall and winter because it's made out of cotton, so it provides heat while still being comfortable and durable.
comparison table
[amazon box="B0759ZWR78,B07L2WX7WC" template="table" /]
What is Corduroy?
You can think of corduroy as a fabric that is very similar to velvet, it's soft to the touch and feels like it's hugging your skin. The difference is in the texture. The twisted yarns create a ripped structure that consists of vertical lines throughout the fabric.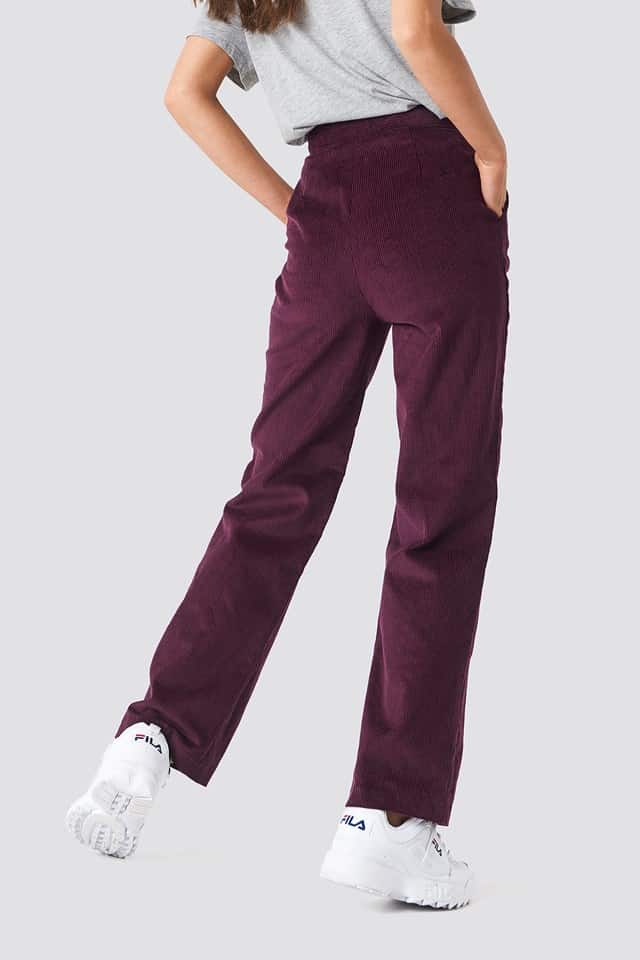 You can find corduroy in coats, shorts, and maybe even handbags. But the most popular item made with this fabric is definitely pants. They come in a variety of colors and shapes. Some are baggy and have a wider cuffs, while others have a tighter fit and are more of a bootcut style.
Regardless of the occasion or which pair you pick, there are a few things that you should consider before putting together your outfit. We already told you about cold weather being better for corduroy pants, but stay tuned to learn more about great ways to wear these comfortable pants.
TEXTURE IS KEY
Since corduroy is a type of fabric with a distinct texture, it's a good idea to pair it with other textures. This can add a good-looking contrast to your outfit.
If you want to keep your style simple and minimalistic, you can compensate for the lack of colors by playing around with different textures in the pieces you wear. Wool, linen, suede, and knitted materials are a few examples of fabrics that you can mix and match with corduroy.
Linen, for example, is considered a fresh fabric because it's light and it lets the air through. If you wear a white linen top with corduroy bottom then you can balance the temperature of your outfit to stay comfortable. You don't want to get sweaty under those pants oh, so you can mix things up and stay fresh.
Mixing fabrics and textures can be tricky, but all you have to do is go for it to make it work. If you wear your outfit with confidence then you'll definitely look your very best.
Another great example of how you can rock this trend is to pair some suede boots with an oversized sweater and a pair of wide-leg cropped corduroy pants. By combining these three textures you can be sure that you'll be making a fashion statement with your outfit. Just make sure that the colors you use are balanced and don't overpower each other. You can substitute the sweater with a T-shirt and a leather jacket for a rockstar vibe. The cropped pants make the shoes more noticeable, and if you think it's too hot to wear boots, feel free to wear suede heels instead to create the same effect.
Another way to add texture is to take advantage of your accessories. A knitted beanie is a great alternative for a sweater, the same goes for a suede handbag. You can't go wrong with these tips, so take a risk and get your match on!
Now that we talked about textures and how well they work together we can give you a few outfit ideas to wear your corduroy pants as much as possible.
[amazon link="B0759ZWR78″ title="WORKING GIRL" /]
[amazon box="B0759ZWR78″ /]
Corduroy pants are definitely a great option to keep you warm, but they can still look very fashionable, professional and even formal. This makes them appropriate for office wear and for a night out. If you are going for this kind of look, opt for a darker shade like black, gray, or navy blue. Tuck in a button-down white shirt and pair it with a trench coat, a cardigan, or a long blazer. You can wear this outfit with booties to go to work because it is both professional and chic.
Another option for the office can be a denim shirt with a wool blazer, paired with skinny corduroy pants and pointy heels. This might be a more casual look due to the denim shirt, but it's still professional and office appropriate.
If you have a pair of high-waisted corduroy pants and you're not wearing a coat, you can tuck in your white button-down shirt and compliment the look with a scarf or your favorite necklace. If your pants go down to the ankle, you can wear flats or a nice pair of work shoes without making your legs look shorter. No need to wear heels if you want to continue riding the comfort wave that you started with your pants.
If you feel like the pants are too long to show off your shoes, feel free to fold the bottoms. Corduroy is a thick type of fabric and it looks good folded, so no need to worry about ruining the shape or fall of your pants. Because of their formal aspect, this kind of pants is a great alternative to the bottoms that you usually wear to the office. Comfort and warmth are great features if you're going to be sitting for a long time or if you'll be outside getting from one meeting to another.
[amazon link="B07L2WX7WC" title="DRESS TO IMPRESS" /]
[amazon box="B07L2WX7WC" /]
Although finding ways to wear your corduroy pants to work can be fun, we know the real excitement begins when we talk about wearing them out.
Our favorite type of corduroy pants is the extreme wide-leg high-waisted style. You see those everywhere this season. Wide-leg pants are the perfect stylish version of sweatpants because they are loose fit, and the fabric keeps your legs warm.
If you want to achieve an effortless look that is still unique just pick your favorite color and decide what shoes to wear. Kendall Jenner was wearing a maroon pair with a white T-shirt, a leather jacket, and tennis shoes. Her outfit looked casual and chic, and we loved how the tucked in shirt accentuated her waist. You can definitely pair these pants with a crop top, a bodysuit with a cardigan on top, or a knitted sleeveless tank. The best thing about this outfit is that you can show your favorite belt if you tuck in your shirt. Throw on a pair of sunglasses and you'll be the coolest one of the gang!
If we had to pick a second place for our list of favorite corduroy pants styles, flare pants would be the winners. They can be long or short, but the disco girl look has never been seen in a better fabric. These pants are usually tighter around the hips and then get wider after they reach your knees. They can be low-rise or high waisted depending on the top that you decide to wear.
If you're wearing the cropped version that stops just above the ankle then your shoe selection is very important. We recommend a pair of booties that hug your heels, perhaps made of leather or suede to practice matching your textures.
Another way to combine materials is to wear a lace top with fun details and a low-rise pair of flare corduroy pants. Use a felt hat and a pair of boots for a bohemian vibe that will definitely make people stare for all the right reasons. High-waisted flare pants with a cropped sweater is also a good option for a cold day when you want to stay warm and comfy.
Corduroy Is Couture
Corduroy fabric is so fabulous that there are suits made entirely from it. If you decide to pull off one of these, then pick a basic shirt that doesn't steal any attention from your suit and a black pair of working shoes to finish the look.
Corduroy pants are definitely a great article of clothing for the winter. We hope that this article made you realize that they are also versatile and perfect to compliment any look. They can be the star of the show or simply a pair of pants that you wear to feel comfortable and warm, but you'll definitely get many compliments about them.  Some of them are easy to fit into your usual outfits (like the skinny fit), while others are more unique (like the flare pants), so play around with the lengths and find your favorite style.
If you ever feel like leggings, jeans or dress pants are simply too repetitive or not warm enough, remember that corduroy pants are available in all shapes and sizes to make you look trendy and make your legs feel soft. We're sure that once you wear them you won't want to take them off.